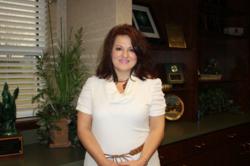 Statesville, NC (PRWEB) April 25, 2013
Michael R. Morton, CEO of Carolina Farm Credit, is pleased to announce that Leisa Hefner recently joined the Carolina Farm Credit team as a Loan Assistant/Service Center Coordinator for the Waynesville service center.
Hefner is originally from Waynesville and currently resides in Candler, NC. She holds an associate's degree in Paralegal Technology. Prior to joining Carolina Farm Credit, Hefner worked with the Haywood County Department of Social Services.
To learn more about the wide array of loans and financial services available through Carolina Farm Credit, call the Waynesville service center at 828-452-1418 or visit our website, carolinafarmcredit.com.
Carolina Farm Credit is a farmer-owned cooperative providing short, intermediate, and long-term financing to full and part-time farmers and agricultural-related businesses and also provides financing for the construction and purchase of rural homes in 54 counties through 36 service centers. Other financial services available through Carolina Farm Credit are credit life and crop insurance, appraisal services, financial planning, and leasing programs.
Carolina Farm Credit serves over 8,800 members with loans outstanding totaling more than $1.3 billion. The association's territory covers the western half of North Carolina, with service centers located in Albemarle, Asheboro, Asheville, Boone, Browns Summit, Burnsville, Carthage, Concord, Ellerbe, Graham, Hendersonville, Hillsborough, Jefferson, Lenoir, Lexington, Lincolnton, Marshall, Mocksville, Monroe, Murphy, Newton, Pilot Mountain, Roxboro, Rural Hall, Salisbury, Shelby, Siler City, Sparta, Spindale, Statesville, Taylorsville, Wadesboro, Waynesville, Wilkesboro, Yadkinville, and Yanceyville.
Directors for Carolina Farm Credit are Joseph A. Lail, Chairman, Shelby; Mark A. Bray, Vice-Chairman, Lawsonville; John M. Barnard, Statesville; E. Bernard Beck, Seagrove; W. Rex Bell, Statesville; David M. Coltrane, Pleasant Garden; Susie J. Gambill, Sparta; W. Steve Love, Graham; Bobby J. "Bud" Matthews, East Bend; Clark M. Newlin, Haw River; Thomas E. Porter, Jr., Concord; Tony L. Ragan, Sanford; D. Kaleb Rathbone, Waynesville; Lewis E. Smith, Lincolnton; Vickie N. Smitherman, East Bend; L. Kim Starnes, Salisbury; Dr. Alton Thompson, Summerfield.