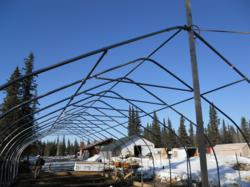 "Many Alaskans enjoy being able to provide for themselves," Rupert Scribner of Kenai Feed & Supply said. "With Rimol Greenhouse Systems, several small scale farmers are now able to grow for eight or nine months a year."
Hoosett, NH (PRWEB) April 30, 2013
On Monday, April 8th, Rimol Greenhouse Systems, of Hooksett, NH, shipped 15 high tunnel greenhouses to their northwestern distributor, Kenai Feed & Supply, in Kenai, AK. Over the past three years, Rimol Greenhouse Systems has shipped over 100 high tunnels to Alaska.
Rupert Scribner and his wife, Sarah Donchi, have worked as distributors for Rimol Greenhouse System since 2009; consolidating high tunnel orders for both large and small scale agriculturalists throughout Homer, Bethal, Kodiak and the Bush communities of Alaska.
"We started using high tunnels at our own farm and learned there is quite a demand for affordable, sustainable agriculture in Alaska," Scribner said. The two decided to work with their local, Natural Resource Conservation Service (NRCS) to provide more affordable greenhouses to their state. "I saw a boat load of Rimol Greenhouses when I lived in Vermont. I chose to work with Rimol Greenhouse Systems after learning Bob Rimol was also from New England and provided quality service and price."
On Monday, April 15th, Scribner and Donchi began installing their latest Rimol Greenhouse Systems high tunnel at their store, Kenai Feed & Supply. The two plan to use their new high tunnel to sell organic produce to the greater Kenai community. In the future, Scribner and Donchi will add more high tunnels to their 55-acre horse farm, Funny River Fjord Farm, which borders one of the largest national wildlife refuges in the United States.
"We couldn't be happier working with Rupert and Sarah in Alaska," Bob Rimol, founder of Rimol Greenhouse Systems, said. " With the help of local and federal government, more people have been able to obtain high tunnel greenhouses. Together, we have been able to provide an increased amount of locally produced food throughout the state."
"In Alaska, the average summer temperature is 55-60 degrees. Without a greenhouse, the growing conditions are very difficult and the average growing season is two to three months long," Scribner said. "Our community is a self-sufficient minded community, especially with our isolated proximity. Many people enjoy being able to provide for themselves through hunting, fishing and farming. With Rimol Greenhouse Systems, several small scale farmers are now able to grow for eight or nine months a year."
In 2009, the U.S. Department of Agriculture (USDA) launched "Know your Farmer, Know your Food," a special government program which seeks to promote locally produced food in the United States. As part of the initiative, small or inexperienced farmers can apply to the NRCS Environmental Quality Incentive Program and receive finance opportunities for their high tunnel greenhouse.
For more information about Rimol Greenhouse Systems' work in Alaska and the NRCS greenhouse incentive program, visit http://www.rimolgreenhouses.com/blog/entry/what-s-driving-our-greenhouse-distribution-to-alaska.
About Rimol Greenhouse Systems:
In 1994, Bob Rimol, owner of Rimol Greenhouse Systems, decided to leave his home state of New Jersey and relocate with his young family to New Hampshire. Bob began working as a greenhouse manufacturer's representative specializing in structures and systems. However, he soon realized the need to "build a better mousetrap" and set out to customize greenhouse technology in order to better suit the needs of his customers. Bob then founded Rimol Greenhouse Systems in order to provide innovative and quality greenhouse technology for local growers.
Rimol Greenhouse Systems has since developed a number of free-standing greenhouses, benches and an entire line of products to complement the greenhouse structures. Other structures include the movable The Rolling Thunder™, high tunnels, and hydroponic systems. All Rimol Greenhouses are designed to be economical, yet rugged enough to handle the harshest snow and wind conditions experienced in New England and many other regions of the country.
Today, Rimol Greenhouse Systems has become a major greenhouse manufacturing company and has developed a brand name synonymous with quality. Although the company has grown and expanded, Rimol Greenhouse Systems still ensures that it is meeting the individual needs of every customer. Rimol products can be found all across the United States.