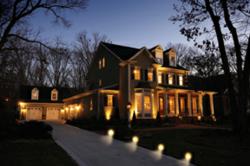 Adding a Cartell driveway alarm enhances these capabilities of home automation systems, adding safety, functionality and convenience.
Lancaster, PA (PRWEB) April 26, 2013
Cartell driveway alarms are adding a powerful new dimension to home automation systems by providing early, highly reliable vehicle detection as soon as the vehicle enters the driveway.
"Our DriveGuard™ driveway alarms make it possible for home automation systems to alert homeowners of approaching vehicles well before they reach the house," says Jonathan Bohannon, President of Cartell, a division of Preferred Technologies Group. "This added warning offers many advantages ranging from increased safety to greater convenience."
For example, when a vehicle enters the driveway, Cartell can automatically trigger a home automation system to turn on lights, chime at keypads, play audible recordings, post messages at keypads and send an email, among other things. Whatever feature the home automation system supports, Cartell will trigger when vehicles drive up.
The Cartell vehicle detection system consists of a sensor probe that is securely buried near the end of a driveway and a control unit that is installed in the home. When a vehicle enters the driveway, a signal is sent to the control unit, which in turn can trigger a home automation system to perform an array of warning and convenience functions, depending on its capabilities and setup.
"A key to the effectiveness of Cartell driveway alarms in triggering home automation systems is our technology," says Bohannon. "Instead of motion detectors and other such systems, we utilize magnetometer technology, which is far more reliable and less vulnerable to false alarms from wind, animals and other inappropriate triggers."
Cartell was the first to utilize highly-dependable magnetometer technology to detect vehicles entering and leaving driveways. It detects interruptions to the Earth's magnetic field when the moving steel of a vehicle passes by. This generates a tiny signal that triggers the control unit in the home. Cartell's driveway alarms can also function independently of home automation systems to sound alarms, turn on lights and cameras and activate other systems.
"Home automation systems offer homeowners excellent control, functionality and conveniences," says Bohannon. "Adding a Cartell driveway alarm enhances those capabilities."
Cartell, founded in 1975, is a division of Preferred Technologies Group, located in Lancaster County, Pennsylvania. Starting with its groundbreaking use of magnetometer technology for residential vehicle detection, Cartell has led the industry with innovation, functionality, quality and value. The dependability of Cartell's products far exceeds any competitors and is backed by the industry's longest warranty. Every Cartell product is made in the U.S.A.