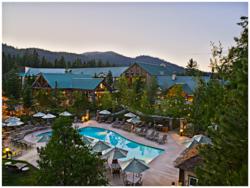 Fish Camp, CA (PRWEB) April 25, 2013
With spring springing in Yosemite National Park and summer patiently waiting for its reveal, Tenaya Lodge at Yosemite is poised to greet guests with sun-filled days packed with fun and value. Celebrating the return of General Manager Paul Ratchford, offerings like the Spring GM Special, Unlimited Summer Fun Pass, and new suites, upgrades to rooms and outdoor pool area enhancements arrive just in time for the warm-weather seasons.
Having directed Tenaya's rise as a luxury resort for eight great years in the 1990s, Ratchford is back and ready to take the property into a new era. The hotel is adding new luxury and garden suites just in time for this summer as well as renovating existing luxury suites. In addition, Tenaya's expansive outdoor pool area will see a detailed makeover that will enhance both the relaxation and fun areas, allowing for an improved poolside guest experience. To celebrate, Tenaya is offering its Spring GM Special. Available for a limited time through June 1, the special starts from $225 per night and includes breakfast for two and a complimentary Yosemite National Park Pass. Guests must use promotional code GMOFFER when booking this package.
As Sierra winter turns to spring, snow melts, ice cracks, and nature is reborn. The Ascent Spa at Tenaya Lodge invites guests to follow suit with organic therapies intended to nourish, heal and protect. Renewal is affordable with Ascent's two-night Spa120 Special, starting from $209 per night this spring and $379 this summer. Along with luxury accommodations for two nights and 10 percent off dining, guests receive 120 minutes of customizable treatment time. When daylight flows into the summer solstice, outdoorsy go-getters have even more time to hike, bike and climb. After a full day of Yosemite discovery, the Après Adventure Spa Package is the perfect way to recover. Starting at $305 per night this spring and $429 this summer, the package provides one night's deluxe lodging, one 60-minute Sports/Deep-Tissue Massage, one 30-minute Hiker's Delight Foot Treatment, and a gift from the Ascent Spa Boutique.
With the new Majestic Mountain Loop, three bigger-than-life Southern Sierra national parks are within an easy 72-hour range. Here's how it works: By taking the Majestic Mountain Loop, travelers can explore Sequoia, Kings Canyon and Yosemite National Parks on an unforgettable three-day road trip. With glaciers, granite monoliths, steep canyons, thundering waterfalls, cool caves and magnificent Giant Sequoia trees, the hardest part of the experience is keeping both eyes on the road! With its Bed & Breakfast Package, Tenaya Lodge offers "loopers" a great place to pull over and recharge before and after Yosemite. Starting at just $205 per night this spring and $329 this summer, the packages includes a night's stay in a deluxe or cottage room and breakfast at Sierra Restaurant. Visit the official Majestic Mountain Loop website at majesticmountainloop.com for suggested itineraries and points of interest.
Yosemite is home to countless waterfalls and the best time to see them is during spring, when most of the snowmelt occurs. Spring also marks the start of fishing season. Guests of any age and ability can cast a line at Fish Camp's fully stocked Big Creek. Serious anglers will enjoy Tenaya Lodge's two-night Yosemite Fly-Fishing Package. Starting at $435 per night this spring, the package connects guests with local guides and secret holes where the fish are bountiful and biting. Just a few miles from Tenaya Lodge,Bass Lake is a classic California locale for leisurely kayaking and canoeing. For thrill seekers, Tenaya Lodge's Whitewater River Rafting Package, starts at $365 per night this spring and includes an all-day whitewater trip on the rocking Merced River with lunch and a two-night stay in a deluxe or cottage room. For those who prefer pools to rivers wild, Tenaya's outdoor pool area features a zero-entry pool, kids' wading pool and poolside cabanas and outdoor eatery, the Bearfoot Bar and Café.
Half Dome, Yosemite Falls, El Capitan. They're Yosemite National Park's big three, and they are awe-inspiring. But, just outside the park, in Tenaya Lodge country, there are at least 101 additional activities and attractions waiting to be discovered. The Southern Sierra is star-studded with scenic vistas, history, hiking and biking trails, art galleries, farmers' markets, vineyards, rodeos, casinos, and even boasts the exact geographic center of California! Way too many to list here, in fact, so Tenaya created a new local travel guide to the area called 101 Things to Do in the Southern Sierra. To browse through all the options, visit TenayaLodge.com/101.
Hungry for a good time? Due to its popularity, Tenaya's old-west Summerdale BBQ will be extended to five nights a week this summer. Starting mid-June every Tuesday through Saturday, this truly special event will bring guests back to the days of caravanning in the Old West – complete with down-home entertainment and s'mores over an open fire. Tenaya is also proud to offer its Unlimited Summer Fun Pass, for just $50 per person. With this key to fun and adventure, valued at more than $80, guests may choose from a host of outdoor activities right on resort property. Access to a guided nature hike, evening flashlight hike, archery, rock wall climbing session and half-day mountain bike rental is unlimited for a full 24 hours.
All packages and rates subject to availability and restrictions may apply. Outdoor activities are subject to weather conditions. Tenaya Lodge's Timberlines newsletter has more details and illustrated information on some of the packages featured above. To learn more, visit TenayaLodge.com/Timberlines. To book or learn more about all current specials and packages, go to TenayaLodge.com/Specials or call toll-free, (888) 514-2167.
About Tenaya Lodge at Yosemite
Tenaya Lodge at Yosemite is an all-season resort framed by noble evergreen forest and a rich range of Sierra recreation. The lodge, set adjacent to Yosemite National Park's South Gate at an elevation of 5,288 feet, offers 302 rooms, suites and mountain cottage accommodations. Tenaya Lodge offers easy access to Yosemite's iconic attractions and many guests savor the alpine serenity of the new Ascent Spa at Tenaya Lodge. Resort dining options run the table from casual to candlelit at Sierra, Jackalope's, Timberloft and Embers restaurants. For more information, visit http://www.tenayalodge.com/.
About Delaware North Companies Parks & Resorts
Delaware North Companies Parks & Resorts is an industry leader providing Stewardship and Hospitality in Special PlacesSM with hotel, retail, food service, recreation and transportation operations at historic and scenic properties in North America and Australia. The company operates Kennedy Space Center Visitor Complex and in Yellowstone, Grand Canyon, Sequoia and Yosemite national parks, including The Ahwahnee and other Yosemite lodges; Tenaya Lodge at Yosemite & the Cottages at Tenaya Lodge; Harrison Hot Springs Resort & Spa in British Columbia; Niagara Falls State Park; The Lodge at Geneva-on-the-Lake in Ohio; Gideon Putnam Resort in Saratoga; Holiday Inn West Yellowstone, Gray Wolf Inn & Suites and Yellowstone Park Hotel. The company also owns and operates five luxury resorts in Australia: Lizard Island Resort, Heron Island Resort, Wilson Island Resort, Kings Canyon Resort and El Questro Homestead and Wilderness Park. To learn more about Delaware North Companies' hospitality management expertise, visit http://www.experiencednc.com.
###