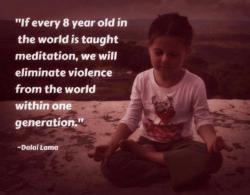 Scranton, PA (PRWEB) April 26, 2013
There is no denying that children today are faced with cumbersome challenges. Fierce competition. Social media pressure. Bullying. Ever-changing technology. Rampant violence. And so much more never imagined years ago.
School districts and private schools across the country offer a variety of tools to make learning easier and help children cope with the world around them. Yet there is a proven method to aid kids in reducing stress, avoiding self destructive activities, and finding inner peace that is not being employed to great extent. Meditation.
In the wake of the recent tragedy at Sandy Hook Elementary and the shootings that seem to occur on an almost regular basis on campuses across the country, the time has arrived to re-evaluate and reconsider introducing meditation in the schools. While meditation has been practiced for hundreds of years, and its benefits widely recognized, it has not become mainstream enough to be utilized as a coping tool.
According to Peter Amato, integrative medicine pioneer, author and certified meditation and yoga master, meditation programs in schools have proven "to help children's attentiveness become keen, diminish the illusion of fear and anxiety, heighten self-esteem, reduce anger and jealousy, resulting in healthy communication and socialization skills and peace of mind."
Amato has seen this happen in a multi-year pilot program he developed and implemented under a U.S. Department of Education grant in the Scranton (Pennsylvania) School District. Working closely with the University of Scranton and Inner Harmony Wellness Center, Senior Researcher Dr. Steven Szydlowski, Amato developed a quantities research methodology to measure the attributes and benefits of the program. A qualitative case study methodology was then added to develop a mixed method research approach.
Upon initial presentation to the school district, elementary school principals were extremely receptive and very enthusiastic about participating in the program and trying it out in their schools.
Secondary to acceptance by the principals and teachers were the parents. At a presentation meeting with parents from participating schools, overwhelming support was obtained. "A few parents wanted to discuss the relationship between meditation and religion," recalls Amato, "but when we explained that it was an academic and scientific system grounded in research and was rooted in universal breathing techniques and gentle movement, the parents felt comfortable and the program gained final approval."
The Pierce-Harris Children's Self Concept Scale was administered to measure the benefits to over 300 children in grades 3, 4 and 5. "We offered a Train the Trainer model to the school teachers," explains Amato, "took the teachers on retreat, taught them the process and provided personal experience with meditation practices."
Following the training sessions, teachers offered the program to students twice a day for a complete school year. Teachers were regularly interviewed, as were the children, to obtain research results.
"Some of the key research findings over the two-year program," Amato reports, "included increases in calm and quiet in the classroom, increased attentiveness, increase in a desire to learn along with a strong retention span, and an increase in morale and socialization. Overall, teachers saw a sizeable increase in emotional balance with less behavioral issues and acting out."
Edutopia.org reports that, as of 2012, only 91 schools in 13 states are implementing meditation in the classroom. California and Pennsylvania are ahead in this effort. Results from these controlled trials in elementary and high schools showed a 38% decrease in suspension days and 25% fewer class absences among high school students. Students in grades one through seven practicing mindfulness meditation achieved significantly improved scores on validated attention-skills tests, while students in grades four through seven demonstrated an 8% reduction in aggressive behavior.
Meditation is time-tested and highly researched. However, government funding for widespread programs is not currently available. That is why Amato has announced he will set the wheels in motion by bringing a meditation program to five deserving schools throughout the country, a $250,000 value in training and materials. At absolutely no cost to the schools.
But this is certainly not a one-person project, Amato admits. So he is challenging private enterprise to join in and sponsor a school so the teachers can be trained to give children a proven tool to help shift the future. The goal, and the hope, is to have this collaboration become infectious, spreading throughout communities and corporate America so that students from every school in the country, whether public or private, inner city or rural, have the opportunity to benefit from meditative practices.
Amato is willing to take on five schools. Companies can help by volunteering to become a sponsor, for one school or for an entire district. Parents and teachers can show support as well by getting their school on board, sharing ideas and continuing the dialogue.
To become involved, go to Amato's website, pathwaytopeace.org, to find out how to become one of the five schools selected, how to be teamed up with a business sponsor and how to become a sponsor. As Amato says, "If we want to bring peace to the world, we have to learn to create it."
Peter Amato is a trailblazer who possesses the innate ability to anticipate new paradigms in a changing marketplace, leading him to become a founding partner in several national businesses. Inspired by personal growth and the realization for the need for a higher standard within healthcare, he established the Inner Harmony Wellness Center and the Center for Integrative Medicine which is recognized as one of the first and foremost authentic centers for integrative medicine in the nation. A meditation and yoga master, with certifications from Deepak Chopra, MD Jon Kabat-Zinn, Ph.D. and Yogi Amrit Desai, Peter was the first to introduce a Meditation in School program and publish the results. Peter is the author of the book "Soul Silence" which explores one's relationship to prayer and meditation, as well as numerous articles on mindfulness. He is currently pursuing his doctorate in mind-body medicine at Saybrook University. A student of many global healing systems, Peter is an in-demand speaker who has motivated audiences across the world.