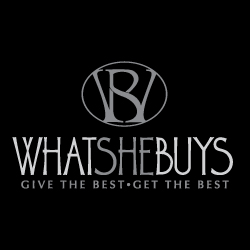 We feel so fortunate to have grown our business over the past 10 years with premium brands and great partners. We are so pleased to be able to share our celebration with our loyal customer base
San Marino, CA (PRWEB) April 25, 2013
WhatSheBuys, a specialty boutique retailer featuring premium brands, celebrated its 10 year anniversary this April with a customer appreciation "You Get The Gifts" promotion.
WhatSheBuys, which specializes in identifying best-of-category, world class brands, first opened online in April 2003. Premium brands include UGG Australia, Longchamp, Eileen Fisher, Barefoot Dreams, Little Giraffe, Wacoal, Anastasia of Beverly Hills, Charriol, Mason Pearson, Deborah Lippmann, among others. The brainchild of Raul Pallares, a Harvard graduate and former real estate executive, Raul was an early user of the Internet and Internet shopping.
Raul decided to recruit his wife, Cathy, who had over 20 years of retail experience as a sales representative for cosmetic and gift manufacturers and a skill in researching and identifying the best products for her family and friends. The company was named WhatSheBuys for Cathy and what "she" buys. With the name and website in place the company was off and running with a few cosmetic lines that Cathy represented.
Continually adding new brands throughout the first year, in November of 2003, they received an unexpected surprise when Oprah selected Barefoot Dreams Robes & Throws for her Favorites show. The orders came pouring in.
They were forced to move operations from their guest house to a boutique store in the heart of San Gabriel's Mission District and then added a warehouse the following year. Today, they are still headquartered in a larger building in San Gabriel, CA with a retail store located in nearby upscale San Marino, CA.
To celebrate their anniversary, WhatSheBuys gave customers a chance to win one of five prizes for 10 days between April 16th and 25th. "We feel so fortunate to have grown our business over the past 10 years with premium brands and great partners. We are so pleased to be able to share our celebration with our loyal customer base," said Raul Pallares, CEO and co-founder of WhatSheBuys.
Details on the WhatSheBuys "You Get The Gifts" Promotion can be found online at http://www.whatshebuys.com.
About WhatSheBuys:
WhatSheBuys is a specialty retailer featuring world class brands, 5 star rated service, free shipping and free gift wrap. WhatSheBuys is an authorized retailer of best-of-category, world class brands for her, him, and child, including UGG Australia, Barefoot Dreams, Little Giraffe, Wacoal, Hanky Panky, Longchamp, Anastasia of Beverly Hills and Magna-Tiles. You can shop online at http://www.whatshebuys.com or visit its store on Huntington Drive in San Marino, CA.