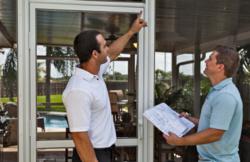 Venetian Builders has experts at dealing with permitting authorities, saving the homeowner time and money, especially on a big sunroom.
MIAMI, FL (PRWEB) April 25, 2013
The biggest decision homeowners will make in having an addition built to expand their homes is which contractor will do the job, said Christopher Noe, president of Venetian Builders, Inc., Miami.
Venetian Builders is the leading installer of custom-design aluminum sunroom additions, patio covers and screen pool enclosures in South Florida. It serves West Palm Beach, Fort Lauderdale, Miami, the Keys and all surrounding communities, including Jupiter, Davie, Homestead, Pembroke Pines and Miramar.
"An addition is a significant investment," said Noe. "It will take time. And no matter how good your contractor is, to some extent it will be disruptive."
A contractor's performance affects a homeowner's life for more than the few weeks or months that an addition is being planned and built. "The contractor's performance is felt for years in everyday living, in the safety and security of a family, in the aftermath of a major storm," Noe said.
Here are tips Noe gives for choosing the right contractor:
Pre-planning. "Have an idea of what you want – size, amenities, the planned use, construction type – before you talk to contractors," Noe said. "That way the bids will be comparable."
Experience. Check to see how long the contractor has been in business. "A contractor who is experienced is likely to know better how to serve you," Noe said. "If the business is new, check the experience of the principals."
License. In Florida, a builder must be licensed. "Know who the license holder is," Noe said.
Affiliations. Is the contractor associated with reputable organizations? "Membership in the better Business Bureau is a plus, or in a recognized trade association that would settle disputes," Noe said. "It's also a good reflection on the business if it is affiliated with a reputable retail chain and quality suppliers."
References. Talk to customers. "Almost any contractor can show you work he has done," Noe said. "If you know people who have used a contractor, ask them if he was on time, neat, respectful of you and your family, and honest."
Permitting. Ask what goes into a design and getting permits to build that design. "How does he deal with municipal officials and homeowners associations?" Noe said. "Venetian Builders has experts at dealing with permitting authorities, saving the homeowner time and money, especially on a big sunroom."
Design. How will the builder make sure the design is what you want? "We bring life-size, working examples of design elements such as windows, doors, screening and structural panels right to your home for you to examine," Noe said. "That helps ensure that you get what you want, what you need and what you can afford. Design changes with location, too. The best West Palm Beach sunroom isn't the best Riviera Beach sunroom. "
Engineering. Make sure that the addition does more than look good. "Our engineers ensure that we build extra-strong structures, from solariums to patio covers and screen enclosures," Noe said. "We build not just to meet the tough Florida Building Code, but to surpass it."
Schedules. How long will the project take? "Traditional construction methods take much longer than aluminum framing," Noe said. "Permitting is more involved with block, and so are inspections. The difference can be months. Make sure a construction schedule is spelled out."
Responsibilities. Does the contract stipulate who does what, and when? "Make sure you know what and when you must pay" Noe said. "Be certain of how disputes are handled. Will there be final walkthrough and checklist before you sign off? And who is responsible for cleanup and any costs involved; that should be part of the total cost, not an extra."
Estimates. Detail is everything. "Estimates should be as specific as possible," Noe said. "For example, our estimates are free, written and detailed. Always."
For more details, call Venetian Builders, 866-596-2427.