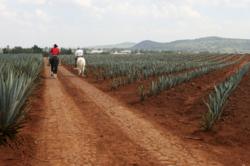 Our tours allow us to share insiders' access to the amazing people, traditions, landscapes, and flavors that come together to produce premium, 100-percent agave Tequila
(PRWEB) April 25, 2013
Heading to a local Tequila bar for Cinco de Mayo? Why not go straight to the source?
After leading industry groups through Tequila country for years, during May 2nd – 5th Spirit of Jalisco will host its first public tour of the Valley of Tequila in Jalisco, Mexico. This four day, three-night trip will take guests to some of the most celebrated distilleries in the region, including those of brands such as Fortaleza, Casa Noble, Tres Agaves, and Herradura.
On a typical tour, guests fly into Guadalajara and spend time in the Town of Tequila where they will taste a variety of premium Tequilas produced by some of the most venerated craft distilleries in the region. The trips will provide a truly authentic experience with walks through agave fields, conversations with jimadors (agave farmers) and Master Distillers, visits to family-operated distilleries, traditional regional cuisine - and of course - the finest Tequilas known to man. In sum, guests will taste all that the Valley of Tequila has to offer.
The tours demonstrate Spirit of Jalisco's passion and commitment to educating consumers about the true craft of Tequila. "We all fell in love with Jalisco and the Valley of Tequila many years ago," says Clayton Szczech, Spirit of Jalisco's Director of Tequila Experiences and holder of a Double-T certification for excellence in Tequila education and Tequila tourism from Tequila's Regulatory Council. "Our tours allow us to share insiders' access to the amazing people, traditions, landscapes, and flavors that come together to produce premium, 100-percent agave Tequila."
To ensure an amazing guest experience, Spirit of Jalisco has partnered with The Cabo Agency - one of the foremost tour operators to Mexico - which has successfully led guided tours all over Mexico for more than 20 years. Spirit of Jalisco packages can be purchased for individuals or groups. The Tequila tours are perfect for bachelor's parties, weddings, custom tours, and more. Standard land package rates begin at $995 and include everything you will need once on the ground:

Three nights boutique hotel accommodations
Three breakfasts, three lunches and three dinners
Ground transportation
VIP distillery tours and tastings
Professional tour guide services
Unlike many other group tours, Spirit of Jalisco Tequila Distillery Tours are true adventures, offering the opportunity to embrace spontaneous experiences, tastes and fun. This is a rare chance for participants to quench their thirst for Tequila knowledge and walk away with a greater understanding of the many varieties and distilling traditions of different artisan producers of the region.
Is Cinco too soon to book a trip? Not to worry, there are 5 more dates on the calendar for 2013:

July 25th – 28th
July 28th – 31st
August 1st – 4th
November 3rd – 6th
November 7th – 10th
Tours can be booked at http://www.spiritofjalisco.com. A gallery of photos from previous trips can be found here.
About Spirit of Jalisco:
Spirit of Jalisco produces fun, authentic tours of the Tequila-producing regions of Mexico, led by trusted Tequila and travel professionals. With over 30 years of combined experience and expertise across all types of package and specialty tours, there isn't a more professional or knowledgeable staff anywhere in Mexico. Click here to learn more about what sets us apart.
Want to become an agent? Reach out to Ned Cartmell at the email address above.