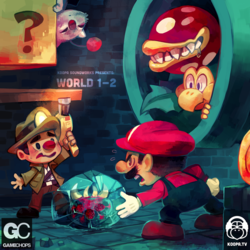 Philadelphia, PA (PRWEB) April 29, 2013
Video game record label, GameChops has published an album that features renowned game composers alongside the remixers that pay them tribute. World 1-2 features original music by Grammy-nominated Austin Wintory (Journey), Manami Matsumae (MegaMan), and celebrated remixers Stemage and Danimal Cannon (Metroid Metal), among many more.
World 1-2 is a music project directed by Mohammed Taher, founder of Koopa Soundworks. His goal is uniting eastern and western video game musicians.
Mr. Taher partnered with Chris Davidson, better known by his stage name Dj CUTMAN, an award winning remixer and performer of video game music. Mr. Davidson owns and operates GameChops, a record label that publishes professionally mastered video game remixes. The two planned World 1-2 to showcase the composing skills and mixing ability of the video game music world as a whole.
The community of video game remixers over the past decade has been rapidly growing. Sites like Overclocked Remix host thousands of remixes that can stream and download for free, although they're largely unlicensed. Joypad Records from San Francisco provided licensing for the copyrighted compositions contained in World 1-2.
Part original music, part remix, World 1-2 is a twenty track album that pays tribute to the remarkable history of video game musicians.