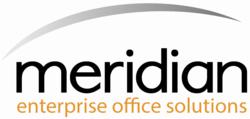 We take pride in our ability to give clients personalized, customer-focused service
Alexandria, VA (PRWEB) April 25, 2013
Meridian, a leading provider of integrated document systems and managed services in the Washington, D.C. Metro area, is excited to announce its participation in several upcoming conferences this Spring. The future of office technology is rapidly evolving and Meridian looks forward to helping professionals and industry leaders improve the way they run the office, manage documents and process data.
On April 25, Meridian will be featured at the 23rd Annual Government Procurement Conference at the Walter E. Washington Convention Center in Washington, D.C. With over 500 government attendees, this event serves as an optimal networking experience for all small businesses or government contractors, and Meridian will be there to showcase the company's products and services.
The Association of School Business Officials Conference will take place May 19-21 in Ocean City, MD, and Meridian will be on site to network with school business professionals. Meridian's managed IT services and managed print services can provide solutions to everyday problems faced by school business professionals.
Meridian CEO, Mike Kerrison, said the company can serve every type of business or professional in some way.
"We take pride in our ability to give clients personalized, customer-focused service. Hosting and attending these events allows us to get to know clients and prospective clients on a personal level, giving us the opportunity to cater to each client's particular needs," Kerrison said. "We are excited to meet with current and potential clients at all our events in April, May and June."
This summer, the company will host its own Lunch & Learn event, and will also co-host a Lunch & Learn with Notable Solutions, Inc. (NSi), a leading provider of paper and electronic content capture and business automation solutions, at the NSi headquarters in Rockville, MD, but the date has yet to be determined.
Meridian's Lunch & Learn is scheduled for June 21 and will focus on government, education and medical industries. At the Lunch & Learn, attendees will demo the newest products, discuss relevant information tailored to industry needs, enjoy a free catered lunch, and take home fun and useful giveaway items and door prizes. The Lunch & Learn will take place at Meridian headquarters in Alexandria, Va.
About Meridian:
Meridian is a leading provider of managed IT services and managed print services. Established in 1985, we are a woman-owned, Employee Stock Ownership Plan (ESOP) company with over 120 employees servicing both public and private sector clients in the Washington, DC, metropolitan area. We continue to be featured locally and nationally as a fastest growing company by Inc. Magazine, Washington Business Journal, SmartCEO and others.