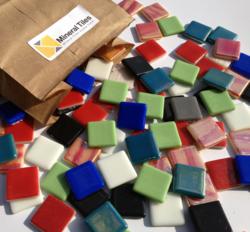 the goal of the contest is not to judge which works are the "best" or "most beautiful," but rather to encourage creativity among contest participants with the use of their recycled glass tiles
Miami, FL (PRWEB) April 25, 2013
With the goal of fostering creativity among mothers, children, teachers, as well as arts and crafts enthusiasts, Mineral Tiles, a provider of tile products and tile design services on the Web, is opening a space on their Facebook page. The company is calling on people to take advantage of their Free Recycled Glass Tiles promotion, and publish pictures of their arts and crafts project on Mineral Tiles' page on Facebook. Winners of the contest will receive a US$25.00 gift card, with Mineral Tiles randomly selecting people to receive the prize.
Mineral Tiles is accepting submissions on their Facebook page until May 15, 2013, with all entries having an equal chance of winning a US$25.00 gift card, which the company will give to three random people. The company points out that the goal of the contest is not to judge which works are the "best" or "most beautiful," but rather to encourage creativity among contest participants with the use of their recycled glass tiles, offered at no charge on their website.
Mineral Tiles is offering 100 bags of recycled, mixed color glass tiles, each one weighing 2 pounds to anyone who wants to claim them on their website. The bags are free of charge and are offered on a 'first come first served' basis. Mineral Tiles is also covering the cost of shipping the bags, ensuring that visitors to their site pay for nothing to acquire the recycled glass tiles.
With their Facebook contest and promotion, Mineral Goals is aiming to encourage the use of a relatively uncommon material like recycled glass tiles, in the application of arts and crafts. Rather than dispose of the glass tiles, the company opted to take the environmentally-friendly route of offering them to people who may want to use them for arts and crafts projects such as, but not limited to, mosaics, vases, cup holders and more. The company points out that mosaic tiles are a suitable material for such projects, given their ability to be quickly glued to various surfaces ranging from plastic and acrylic, to wood and ceramic with the use of construction glue like silicone and liquid nail.
Founded in 2006, Mineral Tiles bears the distinction of being a company that deviates from the typical business model of displaying tile products in a showroom manned by a full staff. Instead, the company operates exclusively through its website, giving their customers access to their products through any web browser. Customers simply browse through Mineral Tiles' collection of tile products and click on the "buy" button to make a purchase—orders will be delivered subsequently.
Deviating from the usual showroom allows Mineral Tiles to offer their products at significantly lower prices compared to brick and mortar stores. The savings made from the absence of a physical store and a full staff makes it possible for the company to offset their prices, making them lower compared to others.