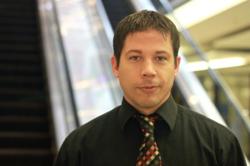 In my 20 years of law enforcement I have never encountered a braver more selfless person than Joseph Vanasse.
Minneapolis, MN (PRWEB) April 25, 2013
When Globe University instructor and criminal justice program chair Joe Vanasse (Mr. J to his students) left his Minneapolis classroom for his drive home last fall the commute was like any other day. However, this day was anything but routine when he happened on a parked police car with its lights spinning red. For a moment Vanasse thought the red lights were meant for him because he had not exactly been driving the posted speed.
But when he saw a police officer violently wrestle a man to the ground - who apparently had been resisting arrest - Vanasse sped his SUV across three lanes of traffic, jumped out and shouted to the officer if he needed help.
With one suspect fighting to get away, the officer asked Vanasse to help him handcuff the man and motioned to more suspects nearby sprawled out and facedown, "And keep an eye on those two," he said.
With the officer holding one of the suspect's arms Vanasse grabbed the other, nearly breaking it in the process, and bullied on the handcuffs. As the officer and Vanasse hoisted the man to his feet, a black and silver handgun slipped out of the suspect's waistband and hit the ground.
An Award For Heroism
Later Vanasse learned that the Minneapolis Police Department will present him with its Citizen's Award of Valor for assisting the officer in the arrest of the suspects. The actual award ceremony will take place on May 13.
"With Vanasse's selfless and heroic actions and with disregard for his own personal safety, Vanasse helped affect the arrest of an armed and potentially dangerous suspect," wrote the officer whom Vanasse had helped. "In my 20 years of law enforcement I have never encountered a braver more selfless person than Joseph Vanasse," he concluded.
No Stranger To Danger
Selfless and heroic have been Vanasse trademarks ever since he joined the U.S. Air Force Special Operations team and served in Iraq as a close air support (CAS) specialist charged with calling in airstrikes on enemy positions. These are the guys who are so near the action they come under fire constantly—a mortar shell once landed so close to Vanasse it blew him off a highway guardrail. He was also part of a sniper team.
Following his military tour of duty Vanasse returned to the United States and joined the Dept. of Homeland Security scanning air travelers for suspicious activity linked to terrorism and crime as a behavior detection officer. During this time he also completed his bachelor's degree in criminal justice and earned a master's from Concordia University in St. Paul, Minn.
In 2011 Vanasse was appointed criminal justice program chair for Globe University's downtown Minneapolis campus where he has taught for two years. A hallmark of Globe University is the school hires instructors with field experience, like Joe Vanasse. Students report they prefer learning from professors and instructors with practical work experience.
Vanasse also gets his students involved in practical work experiences every day through applied learning projects at the school. For example, students in a security class worked with The Whole Learning School (TWLS) to conduct a security assessment, which led to students presenting their findings to the school's directors.
TWLS educates children with intellectual disabilities and autism spectrum disorders. Vanasse serves on the school's board of directors and heads the IT sub-committee.
About Globe University and Minnesota School of Business
Globe University and Minnesota School of Business are part of a premier, family-managed system of career colleges, universities and training centers based in Woodbury, Minn. These specialty skills colleges prepare work-ready professionals for successful careers in a wide range of high-demand fields. Through its mission, We Care, the organization integrates hands-on and career-focused education with service- and applied-learning experiences that expose students to their communities and real-world situations. Programs offer undergraduate, diploma and graduate degrees in a wide range of career fields, including business and accounting, health sciences, legal sciences, technology, creative media and applied arts. More than 30 programs are available online. All academic programs are accredited by the Accrediting Council for Independent Colleges and Schools (ACICS). For more information, visit http://www.globeuniversity.edu.