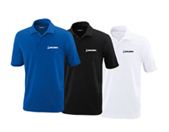 "Okuma's new eStore gives buyers complete control over product selection, quantity and timing of orders."
CHARLOTTE, N.C. (PRWEB) April 25, 2013
Okuma America Corporation, a world-leader in CNC machine tool manufacturing, today announced the launch of the company's eStore, designed to provide a streamlined self-service purchasing process for Okuma-branded sportswear, apparel and premium items. The eStore is open to both distributors and consumers, allowing easy access to attractive lifestyle products that are specially selected for practical business use or simply to celebrate the renowned Okuma brand.
Consumers can choose from attractive premium items such as notebooks, portfolios, pens and graphic magnets, or apparel items including a variety of shirt styles and hats. The eStore's self-service approach gives buyers complete control over product selection, quantity and timing of orders. It is continually stocked with inventory, and provides real-time updates regarding available quantities for each item, which is particularly useful for volume orders.
"We receive many requests for Okuma-branded items, and this eStore enhances the ordering process by giving our distributors and consumers the opportunity to shop at their leisure and place orders as needed," says Julie Murphy, marketing manager for Okuma America Corporation. "eStore customers can not only get what they want, when they want it, but also browse the full array of available products."
The Okuma eStore is open for business at http://www.costore.com/okuma.
About Okuma America Corporation
Okuma America Corporation is the U.S.-based sales and service affiliate of Okuma Corporation, a world leader in CNC (computer numeric control) machine tools, founded in 1898 in Nagoya, Japan. The company is the industry's only single-source provider, with the CNC machine, drive, motors, encoders, spindle and CNC control all manufactured by Okuma. Okuma's innovative and reliable technology, paired with comprehensive, localized service protection, allows users to run continuously with confidence – maximizing profitability. Along with its industry-leading distribution network (largest in the Americas), and Partners in THINC®, Okuma facilitates quality, productivity and efficiency, empowering the customer and enabling competitive advantage in today's demanding manufacturing environment. For more information, visit http://www.okuma.com or follow us on Facebook or Twitter @OkumaAmerica.