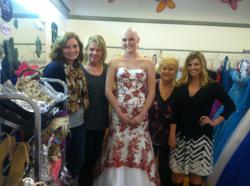 Everyone loved the dress.
(PRWEB) April 26, 2013
Prom fashion market leader Tiffany Designs fitted an Ohio high school student who was recently diagnosed with cancer with a stunning gown for her senior prom. Sydney Hodge was diagnosed with lymphoma several days before Christmas. Tiffany Designs gladly donated the senior her dream prom dress after receiving a heartfelt message posted by her mother to the Tiffany Designs Facebook page in January 2013.
"My daughter has begged me for one of your dresses for her senior prom. She absolutely adores them," posted Sydney's mother, Carol Adkins. "Sydney wore a Tiffany Designs prom dress for her junior prom as well," her mother added. "Everyone loved the dress, and she was complimented constantly on it."
There has been great support shown for Sydney in her hometown as well. Current and former classmates crowded into her home in January to dye strips of their hair purple or shave their heads prior to her beginning chemotherapy treatments. A "Spero for Sydney" benefit was held on March 9 at Paint Valley High School to raise money to help defer costs for her mother.
"It was a pleasure to provide Sydney with this gorgeous prom gown and to help bring a little joy to her life during this difficult time," said Tiffany Designs president Wen Wu.
Tiffany Designs is a leader in the prom fashion market, with gorgeous gowns for proms, parties, pageants, parades, and more. To browse dresses by Tiffany Designs, visit http://www.tiffanydesigns.com. Use the store locator to find a local authorized retailer.