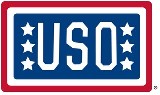 Nashville, TN (PRWEB) April 25, 2013
WHAT:
The USO, Nashville International Airport (BNA), elected officials, local dignitaries, military leaders and entertainers will celebrate the opening of USO Nashville, the first USO center in Tennessee, on Friday, May 3. The new, 900 square foot center, located at the junction of C and D Concourses, replaces BNA's military lounge. It will provide troops and families with programs and services that not only lift their spirits, but also deliver a touch of home, such as computer services, video gaming, TV and relaxation, a children's play area and snacks.
BNA is the home of the Tennessee Air National Guard Base at Berry Field, one of the largest Air National Guard facilities in the country and currently serves more than 14,000 military servicemen and women and their families. BNA hopes the opening of USO Nashville will increase that number. USO Nashville was made possible by Nashville International Airport and many USO donors and volunteers.
WHEN:
Friday, May 3, 2013
11:00a.m. - Program
11:30 a.m. - Media interviews and Center tours
WHERE:
Nashville International Airport
One Terminal Drive
Nashville, Tennessee
Ticketing Lobby - Level Three
WHO:
Karl F. Dean, Mayor, Nashville
Sloan Gibson, President and CEO, USO
Kari Burgess, Center Director, USO Nashville
Rob Wigington, President and CEO, Metropolitan Nashville Airport Authority
RSVP:
MEDIA: Please RSVP to Kenya Friend-Daniel (kfriend-daniel(at)uso(dot)org) or (202) 679-9574, who will provide parking instructions.
For more information about the USO, visit uso.org.
About the USO
The USO lifts the spirits of America's troops and their families millions of times each year at hundreds of places worldwide. We provide a touch of home through centers at airports and military bases in the U.S. and abroad, top quality entertainment and innovative programs and services. We also provide critical support to those who need us most, including forward-deployed troops, military families, wounded warriors and families of the fallen. The USO is a private, non-profit organization, not a government agency. Our programs and services are made possible by the American people, support of our corporate partners and the dedication of our volunteers and staff.