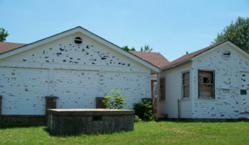 With our local office, we can better facilitate hand-on customer service and ensure the proper repairs are made to restore our client's properties to pre-storm condition
Omaha, NE (PRWEB) April 25, 2013
Apex Exteriors is pleased to announce the expansion of services at their local office in Omaha, Nebraska at 13772 Millard Avenue.
As a result of severe storms that swept through Omaha on April 9th, 2013, Apex Exteriors has expanded its restoration operations to accommodate the overwhelming response of homeowners who experienced significant home hail and wind damage. Their local office enables the company to maintain superior customer service and quality craftsmanship for those homes in the Omaha region while meeting its expansion initiatives.
The Omaha location is Apex Exteriors' ninth office offering full-functioning home restoration services for residential and commercial properties in the area. "Our team is excited to extend into the Omaha market and offer our services to those homeowners affected by the storms. With our local office, we can better facilitate hand-on customer service and ensure the proper repairs are made to restore our clients' properties to pre-storm condition," said Jim Stringham, President and Founder of Apex Exteriors.
As members of the United Association of Storm Restoration Contractors, Apex Exteriors must abide by a strict professional code of conduct including having an established pipeline of satisfied customers, adherence to stringent ethical standards and a long-standing presence in storm damaged areas.
Apex Exteriors has been specializing in catastrophe restoration including residential and commercial wind, hail and hurricane damage since 2006. Apex Exteriors is a member of the highly regarded Owens Corning Platinum Preferred Contractor network, the Better Business Bureau, the National Roofing Contractors Association, and is recognized as being a Top 100 Roofing company and Top 500 Qualified Remodeler in the U.S. Their knowledgeable associates strive to exceed customer expectations throughout the entire restoration process. Highly-trained and licensed in commercial and residential exterior repair, APEX supplies clients with full-service restoration consultations, insurance inspections and exterior repairs for residential and commercial properties. For more information about Apex Exteriors, visit our website at http://www.ApexExterior.com.