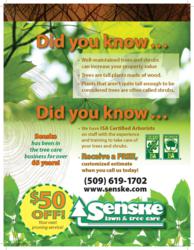 "My goal for the 'Did you know' factoids was to catch people's attention, so goal accomplished!" says Patricia Mosely, Director of Marketing.
Kennewick, WA (PRWEB) April 26, 2013
When staffers at Senske Services created an ad for tree and shrub pruning services, they had no idea that it would appear on national television. But this week they were stunned to learn that their newspaper insert made a brief appearance on The Tonight Show.
On Monday night's Headlines segment, Jay Leno poked fun at the factoid section of the insert which said, "Did you know… that trees are tall plants made of wood?" Leno, who apparently felt this fact was common knowledge, threw up his hands and exclaimed "Wow!" The audience responded with laughter and applause.
Senske management also got a chuckle out of the segment. As Senske's Marketing Director Patt Mosely explains, "We're huge fans of the Tonight Show and the newspaper insert served its purpose by encouraging homeowners to trim their trees in the early spring, so for us it's a win-win."
With 65 years of experience in tree care, Senske's philosophy is that trees should be considered investments for any property. Not only is the company taking The Tonight Show's joke in stride, it is using the publicity to continue educating customers about the importance of yard upkeep.
Whether people know exactly what trees are made of, the fact remains that trees and shrubs are valuable parts of a home's landscape. Trees provide a cooling effect for both houses and yards, while shrubs contribute to property value. But trees need periodic maintenance to control damaging insects and protect against storm damage and the danger of falling limbs.
Homeowners who aren't up to the task of properly trimming or pruning their own trees can turn to trained and certified arborists and technicians like the ones at Senske Services.
About Senske Services:
Senske Services, Inc. is a leading lawn, tree and pest control service provider that is locally owned and operated, with its corporate office based in Kennewick, Washington. It has been a trusted source of lawn, tree and pest control services for more than 65 years across Eastern Washington, Idaho, and Utah, as well as pest control in Las Vegas, Nevada. To see what Senske Services can do for you, visit http://www.senske.com.