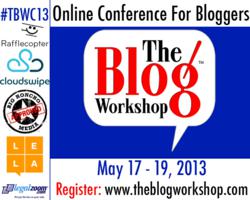 The Blog Workshop registration ends May 10th, get your discount now.
Atlanta, GA (PRWEB) April 30, 2013
The only online conference of its kind, The Blog Workshop (TBW) "Where Blogging Meets Business," takes place May 17 – 19, 2013. TBW will conduct six sessions over the 3-day period discussing everything from the basics of blogging, preparing for advertising and pitching to brands/advertisers/sponsors, monetizing blogging efforts to how to build relationships with media. World re-known bloggers and speakers consist of: Ryan Schram COO of Izea, Jeneba Ghatt of Ghatt Law Group, Lindsay Lee, Co-founder of Blog Trends and Robert Mooney of Blogads to name a few.
Registration ends soon with only limited space. TBW is giving bloggers a last minute discount of $25 off ending May 10th. Please use discount code: TBW25BLOGC
The Blog Workshop registration allows bloggers an opportunity to receive promotional giveaways that will assist in the success of their blogging needs from LLC packages, video blogging equipment, affiliate funding and more thanks to a few sponsors: Big Honcho Media, Legal Zoom, LELA, Cloud Swipe, Your Site Makeover, Subjekt, SocialWebCafe
Additionally, a portion of the TBW registration will be support WellSpring. For further information, please log on: http://theblogworkshop.com
MEDIA: Interested in attending or to set up an interview, please email: deedee(at)abcpublicity(dot)com
ABOUT WELLSPRING: Wellspring Living is unique in that each program we offer takes a comprehensive approach - healing the mind, body and spirit - through education, individual and group therapy, and life skills classes. Wellspring Living strives for long-term sustainability for each women and girl's life by looking deep into the root of the issue and not offering quick fixes. The residential programs are key to the healing and successful futures of the many survivors the we serve. Wellspring Living's mission is to confront the issue of childhood sexual abuse and exploitation through awareness, training, and treatment programs for women and girls. For more info: http://www.wellspringliving.org
ABOUT THE BLOG WORKSHOP: The Blog Workshop (TBW) is a teaching community for bloggers and vloggers. TBW's goal is to provide information that will help bloggers and vloggers take their ventures to the next level. Through workshops, annual conference and community, TBW will work hard to facilitate blogging education and help bridge the gap between influencers, brands, PR professionals and more. TBW is honored to be a part of providing information, resources and opportunities for bloggerpreneurs and future blogging scholars. The Blog Workshop is "Where Blogging Meets Business."
Founded by Da Vinci of YourLifeAfter25.com (YLA25.com) a lifestyle blogazine that is all about living life to the fullest, to educate, entertain, and empower women to become better women of today. Your Life After 25 caters to a female audience yet has a 40% male readership, average readership of 25 - 44, receives 300,000+ monthly visitors with over 1,500,000 impressions/page views a month. Whether it's through health tips, fashion, books, parenting, cooking, or philanthropy, Your Life After 25's mission is to touch the lives of women in a positive way. Visit The Blog Workshop on: Twitter: @TheBlogWorkshop and #TBW, Facebook at TheBlogWorkshop or on Google+
# # #