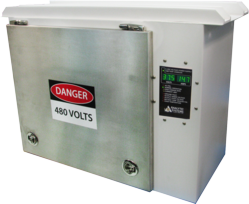 Delta, BC Canada (PRWEB) April 26, 2013
Analytic Systems is pleased to announce that they have added a higher voltage range for their high performance DC/AC inverters (IPS Series) that has been asked for by their rail and transit customers. The 40-80VDC range has been available in their lower power DC/AC inverters (600 and 1000 Watt units) but now available in the 1500 and 2000 Watt units.
These ruggedized inverters are used in a variety of high profile transit companies like Chicago METRA for a number of years. 72VDC is a common voltage for transit and rail applications.
Analytic Systems, http://www.analyticsystems.com is proud to be a partner with a new Canadian project designed to improve CP RAIL's communications system. Analytic Systems is committed to innovative and cutting edge technology in the design and development of DC/DC Converters, Inverters, Battery Chargers and Power Supplies. Clients include: CSX, CalTran Transit, New Jersey Transit Union Pacific Railroad, BNSF Rail, METRA Transit, Harsco Rail, Santiago Subway Systems, Massachusetts Transit, BART, and Milwaukee County Transportation.
For further information, contact:
Bill Walker (billw(at)analyticsystems(dot)com).
Vice President, Sales and Marketing
1-800-668-3884