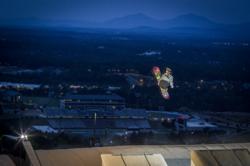 Lynchburg, VA (PRWEB) April 24, 2013
Winter may be over, but peak-riding season for skiing and snowboarding enthusiasts has just started at Liberty Mountain Snowflex Centre.
Fledgling snowboarders and aspiring professionals alike flock to Lynchburg, Va., in the spring and summer months.
"It's one of the only places in North America where you can ride year-round," said Drew Sherwood, general manager. "Otherwise, you would have to travel to Chile or New Zealand to train."
It is the only facility of its kind in North America made with the award-winning Snowflex surface system, a plush plastic carpeted slope, slickened with an irrigated misting system that remains the same in every season.
"At a ski resort, the slopes are constantly changing," Sherwood said. "The Snowflex synthetic surface never changes so you get to build good habits and get quality riding time on a consistent landscape."
Will Scheren, head coach of Liberty University's ski and snowboard team, said riders of all levels see the benefits, even those at the very top.
Scott Stevens, one of the top-five-ranked snowboarders in the world, has visited Snowflex. He travels from Massachusetts but also trains in Park City, Utah.
Other nationally known riders who frequent the facility include two regulars on the Dew Tour, a series similar to ESPN's Winter-X Games that airs on NBC — Tim Humphreys of California, who is sponsored by Sessions Outerwear and GoPro, and Yale Cousino of Vermont, who has ridden for Burton Snowboards for the past 10 years.
"Yale's been a friend of this place since it opened," Scheren said. "He comes down in season sometimes. He likes hanging out here."
That's also true for snowboarder Chris Willett, the younger brother of U.S. Olympic hopeful Eric Willett, from Breckenridge, Colo.
(For those interested in getting a glimpse of some of the nation's top riders in action, Liberty will host its fourth-annual Dew Games this Saturday. Former U.S. Olympic snowboarder Andy Finch, who has been on the Dew Tour, and Cousino and Ryan Paul, both of whom have competed in the Winter X-Games, will attend.)
Over the past few years, the Flames have helped develop two top skiers on their club team — brothers Tim and Jonathan Steltzer, winner and runner-up, respectively, of the past two Big Air competitions at the United States Collegiate Ski and Snowboard Association nationals.
"Jon's here all of the time," Scheren said of the online student and professionally sponsored skier. "He lives here and bounces between here and Colorado."
Liberty, in only its fourth season as a competitive team, has ascended the ranks of the USCSA through year-round training at the centre. At last month's USCSA nationals in Sun Valley, Idaho, the Flames were the only team to have the advantage of training on their own campus. The men's snowboard team finished fourth, and Liberty senior snowboarder Eden Jones took fourth, individually, in the women's competition.
"Our riders have received the most benefits, from the fundamentals we get to work on on a daily basis," Scheren said. "This is just a place to get good at snowboarding and skiing. Anybody who leaves here gets better."
Before trying to land a variety of jumps on the fairly forgiving Snowflex surface, riders can simulate their tricks on the safety net of an aerial awareness trampoline.
Scheren said Snowflex may not be the choice of current U.S. Olympic hopefuls, who have the financial backing to travel to New Zealand to ride in the summer, but it is an ideal training ground for potential standouts in the sport.
Each summer, Snowflex assembles a talented staff of coaches to lead weeklong day camps for elementary-aged newcomers in June and overnight camps for progressive riders in July.
"We're not going to see any 2014 Olympians here, but it's a place for younger kids to get started," he said. "It's a great place for future Olympians to come and get safe training."
Liberty Mountain's slopes have entertained a few British Olympians, however. Skiers James "Woodsy" Woods and Katie Summerhayes, as well as snowboarder Jamie Nicholls, are expected to compete in the Winter Games in Russia in 2014. They first learned to ride on Snowflex at the Sheffield Ski Village in England, homeland of Brian Thomas, the Briton Engineering inventor of the synthetic surface.
Pro riders and collegiate riders are also attracted to Lynchburg as a location to build their foundation of skills while receiving discipleship from Liberty students and coaches.
"We've built a reputation as a good, fun place to train because of the Christian environment," Scheren said. "I've gotten messages from pro snowboarders who have said, 'My life's been turned upside down. It's not going so great. I want to hang out for a week and get my head on straight.' It's a great place to hang out in a good environment."
About Liberty University
Liberty University, founded in 1971, is the largest private, non-profit university in the nation, the largest university in Virginia, and the largest Christian university in the world. Nearly 100,000 students attend classes on its 6,800-acre residential campus and study in its thriving online education program.