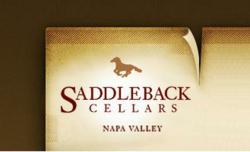 Oakville, CA (PRWEB) April 25, 2013
Saddleback Cellars, Napa Valley's premier wine tasting room and winery, recently took home silver and gold medals at the American Fine Wine Competition in Boca Raton, Florida on April 4, 2013. Saddleback Cellars' 2010 Viognier and 2010 Pinot Grigio took home the Silver Medal, while the Gold was awarded to the stellar 2007 vintage of their Reserve Cabernet Sauvignon, and 2008 Cabernet Sauvignon.
Saddleback Cellars, a small winery located right in the heart of the Napa Valley wine region, proudly offers a rustic and casual wine tasting room with picnicking available. Now everyone can enjoy the signature, award-winning tastes of their winery, including the newly released 2011 Chardonnay. In addition, Saddleback Cellars offers a wine club to its dedicated wine connoisseurs throughout the area.
"We've also just released our 2011 Chardonnay," Barbara added. "It's $29 for the general public, but just $23.20 for club members."
The winemaker describes its Chardonnay as follows, "The nose emits aromas of pear, lemon rind, and brioche. The taste echoes the lovely nose and has a viscous mouth-feel due to the battonage (stirred sur-lees) process.The long finish has aftertastes of peach, pear, lemon and a hint of toast. A perfect accompaniment with dried fruit, cheese, crab, or lobster."
It has been a busy month at Saddleback Cellars.The vineyard is also thrilled to announce that their very own Nils Venge is one of the host winemakers at ZAP's 2013 Mediterranean Cruise, a 10-day cruise featuring three winemakers as hosts. Departing from Istanbul, and sailing to Barcelona, the cruise goes from April 24 to May 4.
For more information about Saddleback Cellars or to book an appointment, call 707-944-1305 or view the winery on the web at http://www.saddlebackcellars.com. Saddleback Cellars is located at 7802 Money Road in Oakville, California.
About Saddleback Cellars
Saddleback Cellars is a Napa Valley winery located in the city of Oakville. Owner and winemaker Nils Venge, "King of Cabernet," produces amazing wines from the grapes grown on their estate vineyard, including Cabernet Sauvignon, Chardonnay, Pinot Blanc, Pinot Grogio, Viognier, Merlot and Zinfandel. They also run a tasting room for the public to experience their wines.