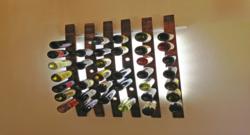 "Lumi Wine Wall has been upcycled from American & French oak wine barrels"
Healdsburg, CA (PRWEB) April 25, 2013
Dale Rorabaugh, the creator of the Lumi Wine Wall, has announced the addition of battery power for the wine wall system. Featuring a contemporary design, the upcycled wine wall system also now allows the user to choose between a 12V wall transformer and alkaline or rechargeable batteries for each stave. Each battery box is located on the back of the stave bottom with a convenient on/off switch for operation. The illumination feature is what makes the Lumi Wine Wall stand out from the rest.
Designed to accommodate small or large spaces for homes, restaurants or wineries, the Lumi Wine Wall will fit any decor whether contemporary or traditional. The Lumi Wine Wall has been upcycled from American and French oak wine barrels. It is modularly built and can be used in units from one to six with each stave holding seven bottles. Twenty-four Super Bright LED lights used to illuminate each stave are energy-efficient saving electricity. Angle-specific holes drilled into each stave hold the wine bottles. Each wooden piece is finished using a custom Danish oil to season the wood. An aircraft-grade anodized aluminum heavy-duty bar backs the modules. All staves are then finished with a custom Danish oil.
The recently launched Kickstarter crowd-source funding campaign will earn the capital for the project. Between five and 10 workers in Healdsburg area are expected to be employed this spring. Their goal is to raise $15,000 to help offset the product development and bring the product to market faster than otherwise possible.
In addition, the company adheres to a "green philosophy" that includes upcycled materials, composting the sawdust, handcrafting, recycling packaging and reducing office and advertising paper.
About Dale Rorabaugh
Dale has a long history of bringing innovative instrumentation to market with over 20 years designing and building products. He has 22 years in the medical, dental and instrumentation fields and has been awarded several major patents as well as patents pending. Dale also has extensive experience in manufacturing producing over 15,000 instruments of various kinds.