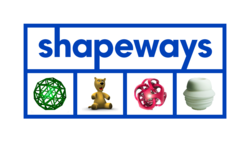 With competitive prices, responsive sales team, and great selection, xByte is our choice for production hardware.
Sarasota, FL (PRWEB) April 30, 2013
Shapeways is the world's leading 3d printing marketplace and community, making it the source for limitless personal production. By creating a platform for that not only allows individuals to create, buy, and sell, their own products, but allowing the community to also gain access to cutting edge technology, they have created a complete system for brining personalized products to everyone.
As recently highlighted by Fox News for a Dita Von Teese gown that was printed by Shapeways revolutionary 3d printing, the capabilities and personalization ability of Shapeways truly delivers a personalized product in an unparalleled manner. With such a strong product and quickly growing community, it is no wonder that Shapeways had to take great effort in procuring the best IT hardware and support for its infrastructure needs. In order to run not only the equipment for the 3d printing but also support the ever growing community of those actively creating, buy, and selling, Shapeways teamed up with xByte Technologies.
Josh Levine, VP of Engineering at Shapeways, recently said the following regarding the vital partnership Shapeways has with xByte, "With competitive prices, responsive sales team, and great selection, xByte is our choice for production hardware. Thanks to xByte we're able to scale our storage and processing capacity at an unbeatable price point. The Shapeways 3d printing marketplace is thriving on xByte servers!" When mission critical hardware is of the essence, it can often be difficult to find the needed reliable hardware at price points which work within a company's budget, but this is the area where Shapeways was first able to build a lasting and strong relationship with xByte. By providing top quality products at prices that allows companies to operate and function stably xByte is helping hundreds of companies become more successful.
As Shapeways continues to grow and move forward, the need for an IT company that can fully supply that growth is essential. With over 10 years of ethical excellence and doing business by the Golden rule, xByte Technologies has been able to help 100s of companies with projects that range from singular server needs of smaller companies to multi-level server needs of larger companies. xByte continues grow and looks to strengthen not only their current offerings, but also add on even more options for IT services to better meet the needs of businesses in today's market. When hardware is mission critical, it is not surprising that so many companies continue to utilize xByte's products and services.
ABOUT XBYTE TECHNOLOGIES
xByte Technologies is a premier reseller of IT equipment with a history of quality service stretching over 10 years. The company specializes in servers, storage, and parts for Dell, HP, and IBM.