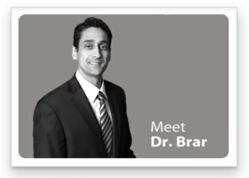 Newport Beach, California (PRWEB) April 26, 2013
Of the 4.1 million Americans age 40 and older who are visually impaired or blind, 2.6 million are women or more than half, according to Prevent Blindness America (PBA).
PBA has designated April as Women's Eye Health and Safety Month in an effort to educate women about the steps they can take today to help preserve their vision in the future.
"If you are a woman over 40, I would recommend you set up an appointment with your optometrist to be screened for cataracts," says Dr. Amapreet Brar, who performs laser refractive cataract surgery at NVISION Laser Eye Center locations in Torrance. "Early detection is key. An NVISION, we have more than 1300 referring eye doctors to choose from throughout California."
"But, you may say I'm too young to have cataracts if I am in my 40's or 50's," explains Dr. Brar. "However, in recent years, baby boomers have had a greater and greater possibility of getting cataracts. This is because of the great stress and overuse of the eyes in the modern society today."
"The more people use their eyes, the more the chance of becoming nearsighted, which makes the rate of getting cataracts go up," continues Dr. Brar. "The sooner the cataracts are diagnosed, the sooner they are treated, and the more probability is that they will be cured."
Some of the ways to reduce the likelihood of cataracts include:

Don't smoke.
Don't drink to excess.
Reduce stress in your life.
Get adequate rest.
Eat a diet that is low in calories and contains large amounts of Vitamin B.
"If do have cataracts, don't despair for cataract surgery is one of the most commonly performed surgeries in the U.S. today with more than three million procedures a year," says Dr. Brar.
In addition, Dr. Brar points out that modern cataract surgery is one of the most successful elective surgeries available today. The procedure is done as an outpatient surgery, with little down time and or pain. Most patients can see some improvement in vision the same day. Today, nearly any type of cataract can be removed in an efficient manner.
"In today's active world, people should not suffer with compromised vision any longer than necessary. Most cataract patients resume normal activity the day following surgery and full activity two weeks following including sports, weight training, cardio activities, etc.," explains Dr. Brar.
About NVISION Laser Eye Centers
NVISION Laser Eye Centers now has 17 locations throughout California. NVISION Laser Eye Centers is the first provider in California to offer LASIK eye surgery with the Swiss-engineered Ziemer Femto LDVD Crystal Line™ Laser -- the highest level of laser vision correction available today. NVISION is also the first provider in California to offer the bladeless, computer-controlled LenSx laser, unquestionably the most technologically advanced option for laser cataract surgery.
With more than 1,400 eye doctors who refer their patients and trust their own eyes to NVISION surgeons, NVISION Laser Eye Centers is the Eye Doctors' #1 Choice.
For more information, visit http://www.NVISIONCenters.com or call 1-877-91NVISION (1-877-916-8474).