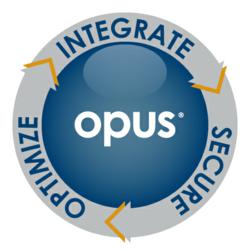 "The Mac user experience you want, the control and security IT needs"
Toronto, Ontario, Canada (PRWEB) April 25, 2013
Today, Orchard Parc announced it is delivering OPUS via the Intel® Hybrid Cloud program to solve the challenges of Mac based BYOD.
OPUS and the Intel Hybrid Cloud enable Managed Service Providers and VARs to deliver secure, cost efficient Apple Mac managed services for organizations and IT staff trying to support the influx of Macs through BYOD programs.
According to Forrester Research's Forrsights Workforce Employee Survey dated Q4, 2012, 70% of organizations have adopted some form of BYOD program. Currently, 39% of laptops used for work are owned by an employee, while 47% are owned by the company. "More and more personally owned laptops are entering the work environment as IT organizations become more flexible with the BYOD culture."
Derek Smith, Co-Founder of Orchard Parc says, "We see an increasing number of organizations adopting BYOD and Apple Mac computers. OPUS makes it easy for IT Admins to integrate, secure and optimize management of the Mac, including those that are personally owned and under user control. OPUS keeps personal data private, and corporate data secure and encrypted, even when off-line. We are excited about delivering OPUS on the Intel Hybrid Cloud."
One of the first companies to leverage OPUS and the Intel Hybrid Cloud is OrthoSensor. Tom Packert, VP of IT for OrthoSensor, says "OrthoSensor is pleased to deliver secure managed services using the OPUS solution. OPUS allows OrthoSensor to efficiently manage Mac computers at our healthcare clients, and ensures that confidential data is always encrypted and secure to satisfy regulatory compliance standards such as HIPAA and the HITECH Act."
The Intel Hybrid Cloud is a subscription-based software delivery model providing locally hosted hardware and software on a pay-as-you-go basis. SMBs get all the benefits of services in the cloud with the peace of mind of maintaining their data on site.
Orchard Parc solutions are available on the Intel Hybrid Cloud, and leading virtual infrastructure platforms including Citrix Xen Server and VMware vSphere. For more information, visit http://orchardparc.com or send email to sales(at)orchardparc(dot)com
About Orchard Parc
Orchard Parc Inc. is headquartered at 1200 Bay Street, Suite 202, Toronto, Ontario Canada. Orchard Parc is a channel-focused company and supports delivery partners in the US, Canada, UK, Europe, and South America.
About OrthoSensor
OrthoSensor develops intelligent orthopedic devices that provide real-time, actionable information about implant placement and performance. Through its three product platforms – OrthoSensor™ Surgical, OrthoSensor™ Implantables and OrthoSensor™ Analytics – the Company aims to improve patient outcomes and reduce the cost of treating musculoskeletal disease.
Orchard Parc Unified Systems (OPUS) is a trademark of Orchard Parc Inc. Other company and product names may be trademarks or registered trademarks of their respective owners