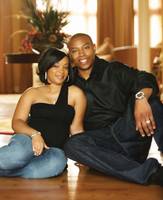 "Having everyone feel welcome and comfortable when we are home and together is very important to me. That is what our Virginia house does," says Caron Butler.
Fairfax, VA (PRWEB) April 27, 2013
May/June 2013 Home & Design Magazine issue will hit newsstands the first week of May featuring a Private Tour with NBA All-Star Caron Butler and his wife Andrea. This issue is packed with lots of fresh ideas to inspire home renovation projects. The 2013 Baltimore-Washington Kitchen & Bath Association (NKBA) welcomed more than 70 entries from area designers in its annual competition, sponsored by Home & Design Magazine. See the 12 award-winning projects that stand out with their distinctive details, eye-catching aesthetics and well-executed plans. This issue also features a batch of new eco-friendly products that blend style and sustainability at home. Become acquainted with the latest outdoor products, which give summer its sizzle.
From the Caron Butler Private Tour article:
As one of the top players in the NBA, Caron Butler thrives on the male-dominated court. But at home it's another story. The 33-year-old forward lives with four women—wife Andrea and three young daughters, ages one to nine—and "in the house," says Andrea, "we rule."
So it's no surprise that when the couple decided to redecorate their Fairfax, Virginia, home, the goal was to trade its dark, heavy interiors for a lighter, more feminine touch. After friends introduced them to designer Dahlia Mahmood, the Butlers asked her to redo their family room. "It turned out wonderfully," Andrea recalls. "Once Dahlia began giving me ideas, I got excited and it turned into a project for the entire house."
Further magazine editorial highlights include Trés Chic, where interior designer Shazalynn Cavin-Winfrey enlivens a mundane townhouse through creative use of color and pattern; Fresh Start, where a talented design team transforms an outdated McLean split-level into a restful, elegant retreat; Coastal Character, where architect Catherine Purple Cherry juxtaposes soaring spaces with cozy appeal; Tropical Twist, where interior designer Lorna Gross-Bryant infuses a Chevy Chase home with a lively island sensibility and Lavish Landscapes, where two properties beckon with intimate outdoor living spaces and gardens galore.
Datebook keeps you abreast of the latest design events and art happenings. And as always, this issue's Indulgences tempts you with the best of the good life in travel, toys, fashion and food.
Read more at Home & Design Magazine.