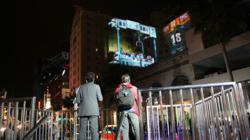 Digital Interactive Brand Experiences are becoming increasingly more relevant to brand engagement strategies.
Charlotte, NC (PRWEB) April 29, 2013
Digital interactive continues to be a trendsetting area of brand marketing campaigns in early 2013. Forward moving agencies are pushing the envelope of technology to capture their brand client's audience's attention and deliver relevant brand experiences across all marketing channels. Elation Digital partners with these agencies and provides turnkey interactive solutions to realize client's visions and campaign goals.
"We've seen a trend of agencies reaching out for assistance to leverage the latest in emerging technologies, to create attention capturing activations that reinforce brand messaging and create positive brand associations," said Christian Rogne, CEO of Elation Digital. "Agencies continue to focus on creating best of breed campaigns and are integrating technology more than ever to reach customers. Apps for smartphones, experiential marketing tours, events and trade shows are all part of the push for integrated marketing campaigns and agencies continue to reach out for technology and interactive partners to help deliver results."
SIA Interactive LLC recently announced Elation Digital as their new brand identity in a shift to focus on digital interactive solutions for events, out of home advertising and experiential mobile marketing tours. This repositioning was a direct response to the changing needs of the marketplace.
Industry recognition including recent awards reinforces this shift. Event Marketer awarded their prestigious 2012 Platinum Award to Goodby, Silverstein & Partners and Pearl Media for the interactive Chevy Sonic 3D Claw Game projection activation that closed down Hollywood Blvd, in Hollywood and won a Guinness Book of World Records for the largest interactive game, using the entire side of the famous Roosevelt Hotel to deliver an interactive experience that supported Chevrolet's "Let's Do This" campaign promoting the new Chevy Sonic.
"This was a project that involved and integrated 3D architectural mapping, the creation of customized controllers, and 3D game development with physics. This was a new take on the beloved claw game that you find in a pizza parlor or arcade. The Chevy Sonic Claw Game burst out of the façade of the Roosevelt Hotel in realistic 3D and the audience used a person sized joystick shaped like the Sonic's gear shifter to move the claw to try and win prizes in the towering 12 story bin including a new Chevy Sonic," said Elation Digital's Rogne. "It was one of the most rewarding projects I've worked on and we're excited to see the recognition that Goodby, Silverstein & Partners and Pearl received for this project." (Images from the event can be found at http://www.elationdigital.com/?portfolio=chevy-sonic-claw-game)
Integrating brands and games is one area of digital interactive that continues to grow as mobile apps, interactive storefronts provide new ways to reach customers in a fun and positive experience, but it's not the only area. "People want to see and try new things. Recently JP Morgan Chase launched Chase Liquid a reloadable debit card and launched a mobile experiential campaign across the country and the core experience was turning people into digital liquid in real time. Participants could move and dance in liquid form and liquid particles would fly off using powerful 3D imaging and physics."
Integrated with data capture on iPads, several images were emailed, and sent to mobile phones of the participants for sharing on Facebook. A Facebook app was created to convert existing images to liquid. "The Chase Liquid campaign is another example of our agency partners asking for our help to develop audience activating brand experiences that have never been done before."
The forecast is that the creative use of technology for marketing and brand activations will continue to drive agencies towards the use of non-traditional media in 2013 and 2014.
About Elation Digital
With decades of collective experience in interactive branding, Elation Digital is a leading solutions provider to agencies with a focus on crafting interactive solutions for events, experiential tours, out-of-home advertising and retail. Blending creative content and the latest in emerging technologies to deliver relevant brand experiences that attract and engage target audiences, Elation Digital helps agencies deliver turnkey interactive marketing solutions to their brand clients in record time. Specializing in non-traditional marketing solutions, their client list includes Coca Cola, Chase, Puma, Chevrolet, Capital One and Bacardi. Elation Digital is headquartered in Charlotte, NC with development offices in Latin America and Europe. Learn more at http://www.elationdigital.com.