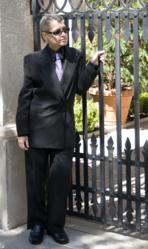 "Antoniou's brilliant humor doesn't allow anyone to take themselves too seriously."

— Curve Magazine
(PRWEB) April 25, 2013
This Sunday, Laura Antoniou will host a special event for The Killer Wore Leather, a mystery for those readers who want to go beyond 50 Shades, at her Barnes & Noble Dallas book signing. Heroine Detective Rebecca Feldblum is alternately shocked, puzzled and amused, as she navigates the underworld to discover who murdered the late Mr. Global Leather. The deliciously tongue-in-cheek murder mystery has biting humor and keen insight, and allows readers to peek into New York's usually hidden underground world of leather.
The Killer Wore Leather Reading
Sunday, April 24, 7pm
Barnes & Noble
7700 West Northwest Hwy., Ste. 300,Dallas, TX
On May 20th, editor and talk show host Judith Regan interviews Laura Antoniou about The Killer Wore Leather, and they will discuss the interest in explicit fiction among women, thought to be on the rise. Laura and Judith have been on the cutting edge of writing, always a step ahead of the trends, and are perfectly poised to discuss the current climate of publishing and writing from an insider perspective. Join these two legendary women for a no-holds-barred conversation and an evening of intrigue and insight.
50 Shades of Fascinating — Laura Antoniou in Conversation with Judith Regan
Monday, May 20th, 7pm
Barnes & Noble
2289 Broadway, New York, NY