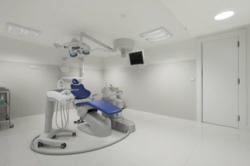 smile with confidence
(PRWEB UK) 27 April 2013
East Sussex area-based Brighton Implant Clinic is expanding its Hove clinic location to include two new surgeries to further service its patients with top-flight expertise and world-class customer service. The clinic is being expanded in response to greater demand among dental implant patients for quality oral hygiene services.
"We're pleased at the opportunity to serve our patients from both here in the UK and internationally with our two new surgeries in our Hove Clinic. These surgeries will be dedicated primarily to giving our dental implant patients quality oral hygiene care, and will actually have its own floor so our patients there can receive full attention from our staff," says Dr. Bruno Silva, Principal Dentist at Brighton Implant Clinic. "Our surgeries are cutting-edge, featuring the most up-to-date technology and machinery for giving our patients the best service possible."
Long-term health of dental implants requires close monitoring and maintenance on the part of patients for optimal results. Once the implants have been installed, patients must practice good personal oral hygiene to minimise bacterial plaque and prevent diseases such as gingivitis and periodontitis. Additional attention and care from qualified dental professionals is needed however to ensure quality health for both bone and soft tissues around the regions in which the implants are placed. Dental surgeon and treatment personnel at the practice's Hove clinic have performed and helped maintain care thousands of successful implant placements, and also have decades of experience in providing quality oral hygiene care.
Brighton Implant Clinic offers dental implants for just £995 per tooth, which includes the dental implant, a titanium abutment, and porcelain fused to metal crown. If the patient needs more than one implant, the cost per tooth can be as little as £495 per tooth. Those are rates that are almost half of what the average industry service costs are in the UK for dental implant placement.
"We're committed to empowering our patients with resources for excellent dental health and enabling them to leave our clinics with a smile on their face," says Silva. "Anyone who has need of our dental implant services or of oral hygiene care can schedule an absolutely free initial consultation to determine and evaluate their needs."
Customers interested in learning more about Brighton Implant Clinic's services or scheduling the free consultation can visit http://www.brightonimplantclinic.co.uk/.