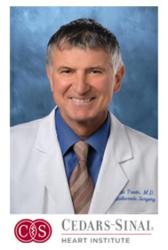 With regard to valvular therapy, Dr. Trento is a pioneer having advanced many surgical techniques -- including minimally invasive approaches using robots and catheters. - Adam Pick, founder of HeartValveSurgery.com
Los Angeles, CA (PRWEB) April 25, 2013
HeartValveSurgery.com, the largest online resource and community of patients with heart valve disease, announced today that Alfredo Trento, MD, FACS, has been named its current Featured Heart Valve Surgeon.
Dr. Trento is the Director of Cardiothoracic Surgery at Cedars-Sinai Heart Institute in Los Angeles, which is ranked among the top centers by US News & World Report for cardiology and heart surgery in 2012.
"With regard to valvular therapy, Dr. Trento is a pioneer having advanced many surgical techniques -- including minimally invasive approaches using robots and catheters," stated Adam Pick, founder of HeartValveSurgery.com. "Many patients from our community – including Jerry Andis, Robin Hirsch and Patricia Shabel - have had excellent surgical results thanks to this dedicated surgeon."
Patricia Shabel, a former mitral valve repair patient, stated, "The very kind and very generous Dr. Trento repaired my mitral valve using the minimally invasive procedure with the DaVinci robot. While others turned me down for the operation, Dr. Trento and his team found a way to make it happen. I believe that Dr. Trento and this procedure was a blessing in my life. I am forever grateful."
With this announcement, Dr. Trento joins an elite group of surgeons who have received Featured Heart Valve Surgeon status at HeartValveSurgery.com. To celebrate Dr. Trento, the website will highlight his accomplishments across its interactive platform which includes a surgeon finder, a heart valve clinic directory, educational videos, an interactive blog and a social network.
During 2012, HeartValveSurgery.com received over 1 million visits while expanding its online library to over 10,000 pages of free information.
"This is a wonderful honor to be recognized by my patients and the HeartValveSurgery.com community," noted Dr. Trento. "I am fortunate to be part of an extraordinary team at Cedars-Sinai Medical Center."
To see Dr. Trento's feature post at HeartValveSurgery.com, please visit http://www.HeartValveSurgery.com/Trento.