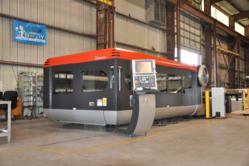 This machine is faster, cuts thicker materials, is more precise, and is much safer and cleaner to operate.
Houston, TX (PRWEB) April 25, 2013
Custom Air Products & Services, Inc. (CAPS), a leading commercial and industrial heating, ventilation and air conditioning (HVAC) company based in Houston, Texas (US) recently made the decision to upgrade its old laser cutting machine with an Amada 3 axis linear drive machine. The company is ready to declare the installation and implementation a success now that the machine has been in operation for several months.
When asked about the machine and its value to the company, Laser/Punch Operator Carlos Vasquez had nothing but good things to say about it, especially when compared to the previous cutter that was in use.
"Not only were there frequent breakdowns on the old machine, but there were also mechanical maintenance issues that tied up a lot of our time," he admitted. "This machine is faster, cuts thicker materials, is more precise, and is much safer and cleaner to operate," he continued.
Engineering drawings are entered into the machine's software interface and after a few data entry steps and validation checks the laser machine is ready to begin its work. Designed to handle the rigors of mass production, Custom Air Products & Services has found that the Amada machine is also efficient for their high-mix and often low-volume custom design work and handles job interruptions and short lead time items efficiently as well.
Fabrication Division Manager Ken Villarrubia said, "Although we originally considered the optional loading table that would let the machine run through the night unattended, we decided not to include that feature in our purchase because of our focus on smaller quantity custom built products. This machine provides safety and reliability for the machine operators, often freeing them up to pursue other work on the shop floor while the machine is in service. But most importantly, it allows us to deliver the precision, high quality products that our customers have come to expect from us."
About Custom Air Products & Services
Custom Air Products & Services, Inc. is a full-service HVAC company that specializes in the design, construction, installation, modification, and servicing of industrial and commercial air conditioning equipment. CAPS employees are committed to providing exceptional custom design and quality workmanship at competitive prices.
Custom Air Products & Services currently occupies four modern facilities, totaling 150,000 square feet in size. These buildings include administrative and engineering offices, training facilities, a filter warehouse, and service shops for fabrication, manufacturing, and modifications. CAPS services are provided to customers throughout the United States and Mexico while their manufactured products have been delivered to sites around the world. Currently CAPS has equipment operating on six (6) continents and in 52 countries.
For more information, contact Custom Air Products at 713.460.9009 or visit them on the web at http://www.customairproducts.com.
###
If you'd like more information about this topic, please call Bea Amaya at 713.460.9009 or email her at bea.amaya(at)customairproducts(dot)com.