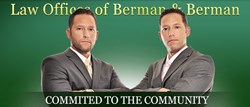 Port St. Lucie, Florida (PRWEB) April 24, 2013
The law group of Berman & Berman of Port St. Lucie, Florida can now be accessed with ease on their new website http://personalinjurylawyerportstlucieflorida.com. Known for their superior results for clients, the firm provides legal services both for car accidents and personal injury compensation. They are available to discuss legal issues and concerns at any time, day or night. They are available for all citizens of Port St. Lucie if they have been injured or hurt.
The new injury lawyer website allows visitors to sign up for a free consultation 24/7 or to call directly at 722-675-1238. If a visitor is in a hurry, they can select the Live Chat option on the screen. Visitors can also email, and find them on Facebook and Twitter. Obtaining legal assistance has never been easier in Port St. Lucie with the Berman Law Group. Do it the modern way. Knowledgeable representatives are available immediately to help assess any case and get justice in or out of court.
Whether responsibility for the accident has been determined or if someone has unresolved insurance issues, Berman & Berman will mediate their case. Their expertise is at hand for all car accident victims in Port St. Lucie, Florida. As experienced Port St. Lucie personal injury attorneys, they are equipped to advise on anything from car, motorcycle, or truck accidents to pharmaceutical and medical claims. They are also able to help with pharmaceutical cases known as toxic torts such as with specific medications. They are handled on a case by case basis. Visit their new website to learn more about legal options. They are also able to help with wrongful death suits. The new website is a portal to expert legal representation by the Florida personal injury law firm of Berman and Berman. Berman & Berman is "committed to the community."
To get in contact with the Law Offices of Berman and Berman you can contact them at 1-(877) 529-8995 or visit their website found at http://lawyerinjuryaccident.com/. They are available 24 hours a day via email, phone, or live chat on their website. For help any type of injury lawsuit in Florida, contact the Berman Law Group today, experienced Florida accident and injury attorneys who are committed to justice.