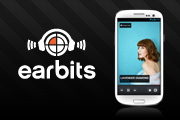 The Earbits Android app creates highly personalized music channels without any commercials. The app also expands Groovies, our fun way to listen to free, on-demand music by taking simple actions that help bands reach new fans and grow sales.
Los Angeles, CA (PRWEB) April 25, 2013
Earbits, a leading online radio and music marketing service, today announced its new Android mobile app that recommends and creates personalized music channels by blending listeners' songs on their mobile devices with Earbits' 350 commercial-free channels. Android users can now discover and listen to the world's best independent music that matches their specific tastes. The new app also expands the value of Earbits' social currency, Groovies, whose growth data is already validating the company's unique solution to monetizing streaming music for artists and creating stronger connections between fans and bands.
After installing the mobile app, consumers receive music channel recommendations based on existing songs stored on their mobile devices. Earbits then intelligently blends users' songs into its 350 channels of commercial-free music. The result is easier, faster discovery of the world's best indie music. Consumers can play Earbits curated channels or songs on their mobile devices, switching seamlessly between their music and Earbits' catalog. Unlike Pandora and other streaming music apps, the Earbits Android app is available worldwide. Consumers can download the Earbits Android app here: https://play.google.com/store/apps/details?id=com.earbits.earbitsradio
Like the Web experience, mobile app users earn Groovies for every artist-friendly action they take, which they redeem for access to on-demand songs and other rewards. Earbits also makes it simple for listeners to support their favorite artists with the new Boom Button, which can simultaneously recommend an artist to a Facebook friend and join the artist's email list with a single click. Additional Groovies-earning actions will be integrated into the Boom Button shortly following the initial release.
Growth of Groovies – A Better Online Music Experience
Groovies is the first social currency for streaming music that listeners earn for supporting their favorite artists. Listeners redeem Groovies to access on-demand songs and other rewards. This exchange has created significant value for music owners, eliminating the need for unrelated ads, commercials, or subscription fees for listeners. Groovies-earning actions resulted in a significant increase in listener engagement since Groovies launched on February 28th, 2013:
-- Facebook fan acquisition rose 101%
-- Email list signups increased 261%
-- Song recommendations on Twitter increased 85.8%.
-- Overall Facebook sharing increased 29%
-- The percentage of users who share songs on Facebook and Twitter increased 20.6% and 36.5%, respectively.
Groovies have proven to create more value per-stream than ad supported streaming models. The royalties received by music owners for 1,000 streams on Web broadcasters such as Pandora are $2.10 or less. After Groovies launched, labels and artists of Earbits Priority Airtime marketing services have averaged 8 Facebook fans and 16 mailing list signups for every 1,000 tracks streamed. The value of a Facebook fan is believed to be $3.60 or more2, putting the estimated value of 1,000 streams on Earbits at more than $28.80 in Facebook fans alone.
Top performing artists on Earbits receive even greater value. Since the launch of Groovies, Friend Slash Lover, an up and coming Indie Rock band, has acquired 374 mailing list signups and 109 Facebook fans on just 9,558 streams, for a fan acquisition rate of 5.1% and a total of 483 contactable fans. Using Earbits artist Daniel Whittington – who converted 91 Earbits fans into $147 of digital download revenue, or $1.62 per fan – the estimated short-term value of Friend Slash Lover's 9,558 streams could be $782.46. In contrast, a typical ad-supported streaming music service with a performance royalty rate of $0.0021 or less, the artist would receive $20.07 or less.
"The early data on Groovies demonstrates that exchanging engagement and artist support for access to on-demand music produces far more value for artists and record labels than ads and commercials." said Earbits CEO Joey Flores. "Expanding our reach into mobile is the next step in growing the capabilities of this platform and further increasing value to our content partners."
Earbits Catalog Exceeds 100,000 Top Independent Songs
Since its launch in March of 2011, Earbits has focused heavily on high-quality music acquisition, licensing over 550 independent record labels and thousands of top quality unsigned artists. The roster has grown by 775%, from 1,200 artists to just over 9,300, and boasts heavyweight indie artists such as three-time Grammy nominee Alabama Shakes, and Platinum-certified artists Primus and 311.
About Earbits
Earbits is the first commercial-free, streaming music service designed exclusively for marketing music products and live events. Earbits allows labels, bands and concert promoters to buy increased exposure in targeted channels under its Priority Airtime program. The company already has 550 labels, 9,300 artists and over 350 channels on its fast-growing, online music service. Founded in January 2010 with headquarters in Venice, CA, Earbits is funded by renowned Y Combinator, Charles River Ventures, former Lala CEO Geoff Ralston, WordPress founder Matt Mullenweg, and SproutBox. For more information, visit http://www.earbits.com.