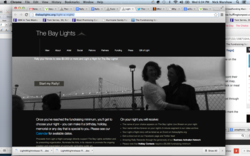 The Light a Night project is a testament to the power of crowdfunding—who would have thought that the internet would be used to crowdfund a bridge? - Tom Serres, CEO Rally.org
San Francisco, CA (PRWEB) April 25, 2013
The Bay Lights belongs to everyone, but now each evening, patrons of the arts will be recognized for lighting the night. A new way to help raise the $1.7 million dollars required to fund the balance due for installation plus maintenance and removal of artist Leo Villareal's monumental light sculpture on the Bay Bridge, Light A Night allows individuals and groups to pick their date to sponsor or dedicate The Bay Lights.
"Patrons can now honor a loved one, celebrate an event, highlight a cause or simply show their support for the project during the live stream of The Bay Lights," said Amy Critchett, executive director of The Bay Lights' presenting organization, Illuminate the Arts, a San Francisco non-profit dedicated to the ongoing creation and presentation of community-activating public art. "Light A Night gives everyone the opportunity to shine while helping to finish the fundraising for The Bay Lights."
To Light a Night, a group or individual must donate or raise $2,000 for The Bay Lights via Rally.org, the social fundraising platform, based in San Francisco. "We are thrilled to provide the fundraising technology for this unrivaled work of art," said Tom Serres CEO of Rally.org. "The Light a Night project is a testament to the power of crowdfunding—who would have thought that the internet would be used to crowdfund a bridge? Funding this beautiful work of art symbolizes the growing crowd-funding movement where non-profits, art projects and individuals are turning to their family, friends and stakeholders to raise valuable funds for what matters."
Each night, the link to one patron's "Light a Night story" will appear on http://www.thebaylights.org and the patron's name will appear on that night's segment and video archive of The Bay Lights live stream. Light A Night patrons also will receive an exclusive selection of Rally Rewards, such as TCHO chocolate, a bottle of champagne at Waterbar or other gifts from members of The Bay Lights Business Activation Network. For Light a Night program details, visit http://www.thebaylights.org/lightanight.
Illuminate the Arts also offers five Gift of Light options to support The Bay Lights:

The Gift of Light Digital ($50) allows gift givers to choose and name or dedicate one light, download a certificate for the numbered light and have access to a digital display of all the sponsored lights.
The Gift of Light Celebration ($100) includes everything in the Digital package plus an elegant, laser-cut black commemorative card and gift envelope.
The Gift of Light Tote ($295) includes everything in the Gift of Light Digital, plus a chic, extra-large canvas tote with silver nail heads and Swarovski crystals designed by Michelle Hatch in collaboration with Cavelier by Jay Jeffers.
The Gift of Light Pendant ($300) provides everything in the Gift of Light Digital as well as a sophisticated, interactive art piece featuring 69 white LEDs on a sleek 2-circuit board, created by Illuminode and programmed by artist Leo Villareal.
The Gift of Light Sculpture ($500) includes everything in the Gift of Light Digital plus The Bay Lights limited edition aluminum sculpture and stand designed by Aaron Silverstein Designs and Marin Metalworks and an elegant with laser-cut card signed by artist Leo Villareal.
To purchase a Gift of Light, visit gift.thebaylights.org. Patrons who want to make a traditional donation to support The Bay Lights can visit http://www.causes.com/thebaylightscommunity.
Unveiled on March 5, 2013, The Bay Lights by artist Leo Villareal is the world's largest LED light sculpture. The sculpture measures 1.8 miles in length and 500 feet high and uses 25,000 individually programmable, energy-efficient LED lights mounted on the vertical cables of the western span of the Bay Bridge. The fine art piece is viewable from multiple locations in San Francisco and points north, but not by drivers crossing the bridge,
Presenting organization Illuminate the Arts has raised nearly 80 percent of the $8 million in private funding required for The Bay Lights, but still seeks $1.7 million in finishing funds.
The Bay Lights is supported by individual patrons, pro bono counsel Morrison & Foerster and corporate sponsors Commune Hotels & Resorts, Illuminode, Charles Schwab, Bloomberg, Sotheby's and Gucci. Caltrans, the City and County of San Francisco, Bay Area Toll Authority and Port of San Francisco have provided significant assistance and counsel. Dedicated solar panels installed in Davis, Calif. by CleanPath will offset all energy used by The Bay Lights. The official fiscal sponsor of The Bay Lights is ZERO1: The Art and Technology Network. For more information, please visit http://www.thebaylights.org
About Rally.org
Rally.org is an easy to use storytelling platform that's designed to empower technical and non-technical users to fundraise and build social awareness on a large scale. To date, Rally has enabled over 25,000 individuals and organizations to share and broadcast their passions, provide solutions to problems, leverage social networks, and mobilize communities.
Rally.org's five million users vary in size and scope and address a wide range of topics. The site has been used by everyone from political candidates for campaign fundraising to Jon Bon Jovi's non-profit foundation to help raise money for Hurricane Sandy relief. Others have created Rally campaigns to help cover the cost of medical expenses, pay for tuition, start companies, fund films and everything in-between.
###