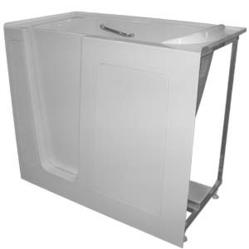 Aromatherapy now available on several walk in bathtubs.
New York, NY (PRWEB) April 25, 2013
An innovative provider of walk in tubs and handicap shower systems announces aromatherapy is now available on several of their walk-in bathtubs. These specialty bathtubs can come with numerous luxurious options such as hydrotherapy, colored mood lighting, aromatherapy and even a drink tray. In addition several of the tubs offered by Aging Safely have temperature control devices, which may be a desired safety feature for some elderly people or bathers with disabilities.
According to Aging Safely, now virtually all models of walk in bathtubs offered will have the option to add aromatherapy. These unique bathtubs come equipped with small ports in which the bather can fill aromatherapy cartridges. Integrating the sense of smell with the sensation of water and air jet hydrotherapy massage, toppled off with soothing mood lighting and you've created an oasis in the bathroom.
Senior bathtubs have been around for awhile now, but they are gaining in their popularity due to the many potential benefits. The elderly can be especially prone to falls and must take precautions when it comes to aging in place and mobility. The walk-in bathtubs offered by Aging Safely come with low step entries which can make entering a bathtub potentially less difficult for the bather. Typically safety grab bars are installed where the door to the bathtub is, in order to assist in stability while the bather is entering the bathtub.
According to the company, these specialty elderly bathtubs also come standard with textured floors to help minimize potential falls. Additionally they can come equipped with ozone sterilization and UV lights which can assist in killing bacterial growth within the jetting systems of the walk in bathtubs. The handicap shower stalls can have the temperature control device included but do not have hydrotherapy or any jetting options.
It is a common misconception these products can only be installed into commercial facilities like hospitals, nursing homes and physical therapy offices. It is actually the contrary, as most of the walk in bathtubs and handicap showers can be installed into relatively modest size bathrooms without requiring major remodeling. However the hydrotherapy jetting, aromatherapy and chromatherapy lighting do require a low voltage electrical hookup.
The company will be offering no cost aromatherapy upgrades for a limited time. Customers that would like further information regarding walk in bathtubs, transfer bathtubs or handicap showers or safety grab bars should contact a representative for a consultation. Commercial organizations are also invited to contact Aging Safely for wholesale walk in tub prices.
Contact Information:
Zachary Wennstedt
1-888-779-BATH(2284)
info(at)Agingsafelybaths(dot)com