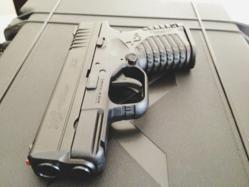 Benton, KY (PRWEB) April 25, 2013
Firearms for Sale is an online gun store for Newton's Guns and Ammo, which was founded in 1994. They are an FFL Dealer located in Benton, Kentucky and are offering the chance to win an XD-S™ 45ACP handgun.
The Contest: Enter Here
The Firearms for Sale team is holding a contest to give away a Springfield Armory XD-S™ 45ACP handgun to one lucky winner. The contest, which runs until May 20, 2013, is creating all the buzz in the gun community.
The XD-S™ has many unique features that keeps people talking about the popular 45ACP. Some of the favorite attributes of this small gun are its size and power. Measuring only 1" in width, this popular concealed carry handgun delivers all the power of a .45 engineered to fit in any size hand.
Once the winner is announced, Firearms for Sale must check to make sure that the city and state where the winner resides will allow the shipment of the Springfield Armory XD-S™.
About Firearms for Sale:
At Firearms for Sale, we pride ourselves on our outstanding customer service team and we continue to make our customers our number one priority. At FFS, we create an environment that makes our customers feel at home. We firmly believe that a good customer is a happy customer. For more information, please visit http://www.firearmsforsale.com.