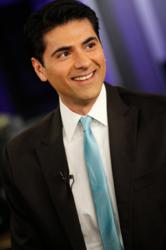 Most people who smoke hookah sit for an hour," said Dr. Ahluwalia. "That's a lot of smoke going into your body
Beverly Hills, CA (PRWEB) April 30, 2013
Sonu Ahluwalia, M.D. visits Good Day LA every week to inform viewers about important topics in health and wellness. This Tuesday, Dr. Ahluwalia shined a spotlight on the dangers of smoking a hookah pipe.
"People think [hookah] is safer," said Dr. Ahluwalia, who practices orthopedic medicine at La Peer Health Systems in Beverly Hills. "We're here to tell them that it's not…it can be worse."
A pipe for smoking tobacco, the hookah utilizes water and fruit, a fact that gives people the impression that it's safer than smoking cigarettes. However, the hookah exposes smokers to increased quantities of benzene, a chemical that has been linked to various cancers including leukemia. Additionally, smoking hookah can increase the amount of carbon monoxide found in the blood stream. Dr. Ahluwalia wants people to understand that smoking hookah is not a good alternative to smoking cigarettes. In fact, individuals who use the hookah may be putting themselves at greater risk than regular smokers.
"Most people who smoke hookah sit for an hour," said Dr. Ahluwalia. "That's a lot of smoke going into your body."
The board-certified orthopedic surgeon also discussed a recent study involving young athletes. Because they are still growing, kids and teens suffer an increased risk of injury during sports play. Training extensively in just one sport may further enhance that risk. For this reason, Dr. Ahluwalia suggests that parents not limit children to just one sport before the age of 12 or 13.
When asked how much time young athletes should spend training, Dr. Ahluwalia said, "Not more than the number of years in their age per week." Hence, an 8-year old should not play sports for more than 8 hours in one week.
Watch the entire news segment with Dr. Ahluwalia on My Fox LA.
For more health tips from Dr. Ahluwalia, as well as videos of his other FoxLA segments, visit his Facebook page.
Sonu Ahluwalia, MD, is an internationally-acclaimed board-certified orthopedic surgeon at La Peer Health Systems, as well as the Clinical Chief of Orthopaedic Surgery at Cedars Sinai Medical Center in Beverly Hills. His private practice specializes in sports medicine, shoulder, knee and hip surgery. 
Dr. Ahluwalia completed his orthopedic training at the Harvard Combined Orthopaedic Surgery Residency Program in Boston, one of the most sought after training programs in orthopaedic surgery. He has completed three fellowships, two at Harvard Medical School and one at Lenox Hill Hospital in New York City, on shoulder surgery, sports medicine, and joint replacement and joint preservation surgery. For more information please call 310.659.2910 or visit http://www.Ahluwalia.org.