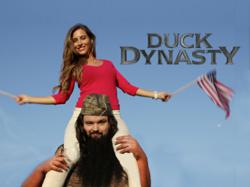 You gotta be a good dancer to make duck calls
Los Angeles, CA (PRWEB) April 25, 2013
Fans of Duck Dynasty and comedy producers, Daily Fiber Films, did not want to do impressions of Si, Willie, Jase, Phil, or any of the Robertson family, because the family means too much to them. Instead, writer and star Raymond McAnally wanted to "add to the world of the show" by introducing new potential series regular characters, as if Duck Dynasty was a fictional scripted television show. The result is a spoof that not only captures the look and feel of the show, but carries us through the hilarious logic of a guy who swears he "knows what it takes to get on TV".
Directed by Lon Strickland, starring Avalon Barrie as the gorgeous wife to the auditioning L.B., played by McAnally, and guest choreographer Criss Judd, the video is the April comedy release for YouTube Channel and Fullscreen Partners Daily Fiber Films. Daily Fiber Films boasts over 25,000 subscribers with a recurring southern fake cooking show, The Bare Nekked Chef, that has been featured by The Food Network, FunnyOrDie, TheComicsComic, FilmSchoolRejects and numerous other blogs and video sites.
Daily Fiber Films is a collective of professional directors, actors, and writers who focus on professionally made quality comedy content for the internet. Starting in May of 2013, they will be posting a new comedy the first and third Tuesday of every month, as well as video blogging twice a week on their new second channel, DailyFiberVloggin. Find their full catalogue of close to forty comedies on their YouTube Channel, DailyFiberFilms.