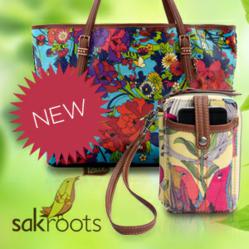 Sakroots supports the Nature Conservancy's Plant a Billion Trees Campaign.
New York, NY (PRWEB) April 25, 2013
Sakroots is a lifestyle accessory brand with a vision of world peace and harmony, and devotes the expression of their products to art, music and nature. Complying with their "one world" philosophy, Sakroots also supports the Nature Conservancy's Plant a Billion Trees Campaign. The campaign aims at raising funds to restore and plant a billion trees by 2015 on 2.5 million acres on Brazil's Atlantic Forest; the largest area on Earth filled with the greatest variety of species in an ecological community.
A Silver Breeze is proud to launch the new accessory collections from Sakroots. The collections feature handbags, wristlets, wallets, and other fashionable accessories. These coated canvas accessories emphasize bright and colourful designs inspired from art, nature and music. All artwork is original and done in-house through the Sakroots' artist circle; a gallery of original art prints created by selected fine artists and graphic artists that share the "one world" philosophy. The prints are relaxed, cheerful and fun and Sakroots introduces new prints every season, keeping the collections exciting and fresh.
The Sakroots collections available at A Silver Breeze feature coated canvas journals, totes, cosmetic bags, wristlets and wallets with matching designs to complete a set or look. Prices range from $15.00USD to $79.00USD. For more information and to purchase from the new collection from please visit A Silver Breeze in store or online at: http://www.asilverbreeze.com.
About A Silver Breeze
A Silver Breeze was founded with a philosophy in mind: give women the freedom to be themselves and embrace a sense of style that's unique to each woman. A Silver Breeze offers women quality interchangeable jewelry and fashion accessories from collections like Kameleon, Chamilia, Sakroots and more!
Stores are located at the Aviation Mall in Queensbury, New York, at the Wilton Mall in Saratoga, New York, and online at: http://www.asilverbreeze.com. Please visit the online store to see all the available collections. A Silver Breeze ensures every customer's shopping experience will be an unforgettable one