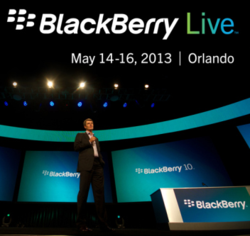 I can dictate much faster than typing with two thumbs, so this lets me stay on top of all my activities
Toronto, Ontario (PRWEB) April 25, 2013
On the heels of launching MPADictation -- his company's new mobile dictation app for BlackBerry 10 -- Mobile Innovations President Gary Bauer will himself be using this new enterprise app to stay on top of business while on the road. Attending the NICHE User Group (NUG) Conference in Toronto and BlackBerry Live 2013 in Orlando the following week to see the BlackBerry Q10 with smart card capability for two-factor authentication, Bauer will use his new app to securely file contact reports from the events as well as the meetings he has set up with key customers and partners.
On the road from the start of the NUG conference on May 6th, to the conclusion of BlackBerry Live on May 16th, Bauer says "It's great to be able to use and experience our own solution in the field, just like our customers do." Explains Bauer, "I stopped carrying a laptop years ago, and I can dictate much faster than typing with two thumbs, so this lets me stay on top of all my activities."
At the NUG Conference Mobile Innovations will be talking about voice integration directly with enterprise RMS (Record Management Systems). NicheRMS is a unified RMS that manages data in relation to people, locations, vehicles, organizations, and occurrences. Mobile Innovations is the company's mobile partner and go-to solutions provider for BlackBerry 10 and PlayBook solutions. Mobile Innovations products put NicheRMS functionality onto BlackBerry and PlayBook, providing mobile personnel with key intel at their fingertips.
At BlackBerry's Partner Day, the BlackBerry Live opener exclusively for BlackBerry Alliance Partners, Bauer and his CTO Geof Bosworth will be on hand to rub shoulders with their many public sector contacts. Mobile Innovations is a longstanding BlackBerry Alliance Partner in the public sector market and won the Innovation Award for Public Sector for its BlackBerry work with the Chatham-Kent Police in 2011. The company was recognized for its work putting data at the fingertips of those who need it, and simplifying the process of reporting and gathering intelligence.
Between shows, Mobile Innovations executives have scheduled a number of meetings with Chiefs of Police from smaller agencies and some larger jurisdictions. "We're starting to see more business from agencies with thirty or forty officers because the numbers make good economic sense." Explains Bauer. "They can outfit their entire force with BlackBerry 10s for same dollar amount it takes to up-fit one cruiser with a ruggedized laptop."
At both events Bauer and Bosworth will be meeting with development teams from Nuance to advance their mutual interest in secure, mobile voice integration with RMS and enterprise data. For the past two years, Nuance and Mobile Innovations have worked closely together with Java BlackBerry devices to simplify the user experience and increase productivity with voice-to-text transcription for:
Activity reports
Street checks
Witness statements
Occurrence reports
If you would like to speak directly with Gary Bauer or Geof Bosworth regarding MPADictation, MPANICHE or MPAMobileOffice, you can do so at the NICHE User Group Conference or BlackBerry Live:
Niche Users Group Conference 2013:
May 6th – 9th, 2013,
Toronto, Ontario
BlackBerry Live 2013:
May 13th - 16th 2013
Orlando Orlando, Florida.
###
For more information, please contact:
Gary Bauer – President
Mobile: 1-416-889-9997
Email: garyb(at)mobinnoco(dot)com
Mobile Innovations is a privately held company dedicated to enhancing productivity with the most advanced mobile data products available. Based in Niagara Falls, Canada, Mobile Innovations also has operations in Toronto and works with over sixty clients across Canada, the United States and in the United Kingdom. Mobile Innovations is a member of the BlackBerry® Alliance Program with seven years of service developing and deploying advanced mobile solutions for BlackBerry devices.