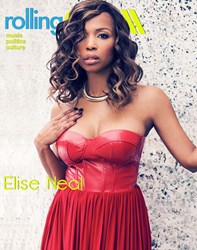 I'm completely open to change.
Atlanta, GA (PRWEB) April 25, 2013
It's her seventh television series and actress Elise Neal, who plays Jill Cooper on TV One's "Belle," says she couldn't let the opportunity pass to work with legendary sitcom savant Ed Weinberger ("Cosby Show").
In the cover story, rolling out magazine's editor-at-large Terry Shropshire highlights the Memphis-born actresses' body of work – early in her career, Neal was a dancer and thespian, never dreaming of becoming a movie star.
"I've studied Shakespeare at the College of Arts in Philly. And I have done those plays on stages. I have a different path than others, so maybe that makes it a little easier for me," she enlightens.
"Traveling to so many countries changed me as an individual. I'm completely open to change. And I'm more adaptable to different people, different cultures, and different experiences. I've seen some of the most beautiful monuments on Earth and met some beautiful people [in places like] Japan."
Visit rollingout.com to read the interview in its entirety. Be sure to check out the exclusive photo shoot and video footage with celebrity photographer DeWayne Rogers.
About rolling out Magazine:
Rolling out, the nation's largest free urban weekly, is a digital and print magazine that focuses on the black experience in response to entertainment, politics, fashion, culture, sports and lifestyle points of interest. Headquartered in Atlanta, rolling out is positioned as the voice for the African American experience, using its newspaper as a platform in the marketplace to express urgency for education reform, and to document entrepreneurial endeavors and other relevant issues in the Diaspora. For information on rolling out, please log on to rollingout.com.