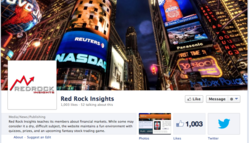 Los Angeles, CA (PRWEB) April 25, 2013
RedRockInsights.com celebrates another milestone this week, reaching over 1,000 likes on Facebook. The social media accomplishment is a sign that Red Rock Insights, a stock market information website, is appealing to a growing web audience with its finance lessons, quizzes, and prize giveaways.
Although Red Rock Insight's overall membership is much higher than 1,000, the Facebook number gives an indication of the website's core fans. Rather than just casually visiting the site, a sizeable portion of the members have decided to receive regular social media updates from Red Rock Insights. As the activity on the Facebook page suggests, members enjoy having the opportunity to converse with each other.
"The Facebook page is a valuable tool for our company," said Dan Stevens, a representative for Red Rock Insights. "Not only is it an opportunity to provide our members with information, but it also serves as the perfect forum to receive feedback about the services we provide."
Now that RedRockInsights.com's members are gaining a better understanding of financial markets, fans will also have an opportunity to discuss opinions and tips on stocks and investing in general. Thus far, the Facebook community has been warm and supportive, congratulating the weekly and monthly drawings winners.
Speaking of prize drawings, the rewards have certainly played a pivotal role in keeping people excited about Red Rock Insights. Designed to incentivize learning and generate a word-of-mouth buzz, dozens of expensive, high-tech gadgets in the website's first two months of operation.
In fact, just this week, three new prizewinners were selected from RedRockInsights.com's membership. Among them are Michaela K. of Findlay, Ohio who will receive an iPad and Michael W. of Savannah, Tennessee who has won a Kindle Fire. Both have sent notes of gratitude to the website.
Another popular aspect of the website is the Learning Center. Therein, tutorials include short essays on bonds, stock market crashes, credit unions, and penny stocks. In plain English, the site helps users to better comprehend terms they may hear fairly often but have never actually understood what they are or how they work.
The site's Market News section is also a valuable tool for stock market novices and experts alike to see the Dow (or Nasdaq or S&P 500) average, track a specific stock performances, and read other financial headlines. As readers learn more about the market, they can make more informed decisions when it comes to investing their money.
Soon, RedRockInsights.com will offer a new feature allowing members to play a fantasy stock trading game. Using virtual dollars, participants can play the market and put their knowledge and instincts to the test without risking of their money. It's a great way for new investors to see whether playing the stock market is right for them.