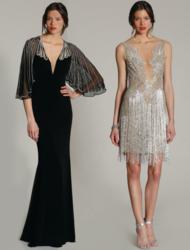 New York, NY (PRWEB) April 25, 2013
While bridal fashion week may still be on the minds of most in New York City, Jovani Fashions is getting ahead of the pack as they get ready for the presentation of their newest collection for Holiday 2013. The New York-based fashion house, known for its multifaceted collection of eveningwear, has taken their love for the classics and developed it into a new trendsetting look perfect for the holiday season.
Thursday, April 25, Jovani will host a press preview for some of the biggest names in fashion media. With editors from Cosmopolitan and Elle to celebrity guests in attendance, Jovani's newest collection is already stirring up excitement. The two-hour cocktail event will feature models in 42 looks that range from intricately beaded cocktail dresses to evening gowns featuring nude illusion lining. The Jovani dresses for holiday 2013 are dynamic and sultry. Focusing on metallic tones and elaborate beading, Jovani's newest collection is a glamorous transition from the softness of nude and blush that the fashion house focused on for their prom and spring 2013 lines.
With the international bestselling book The Great Gatsby coming out in film early next month, an infusion of art deco and roaring 20's flair have been a major influence on Jovani's design director's aesthetic for holiday. Julie Durocher, who has sketched thousands of designs for Jovani, has had this art deco style in mind for over a year. "While doing fabric research, I became attracted to this whole art deco feel," said Durocher. "I was seeing more architectural looks and fell in love with the idea that these patterns could be featured in longer lengths, sleeves, and fringe."
Jovani, who is consistently ranked number one for prom dresses, is ready to expand their image beyond the teen realm. The fashion house prides itself on being a provider of classic and trendsetting eveningwear for women at an age. From their modern bridal line to their fun and festive party dresses, Jovani provides an amazing selection of dresses that fit women at any stage in their lives. The 2013 holiday collection is no different, and its trendsetting styles will be perfect for the woman looking for a classic and glamorous look in the modern world.
Company
Jovani Fashions is a New York-based fashion house that designs and manufactures luxurious formal dresses and couture gowns. The world-renowned brand sells to over 3,000 specialty stores worldwide, including major department stores such as Neiman Marcus, Nordstrom and Harrods. Jovani offers an extensive collection of evening gowns, bridal and chic cocktail dresses, in addition to their embellished couture designs. Jovani dresses are a favorite among A-list celebrities and editors, and they can be seen all over the red carpet and inside the pages of high-fashion editorials.
Contact: Felicia Garay-Stanton
Phone: (212) 279-0222