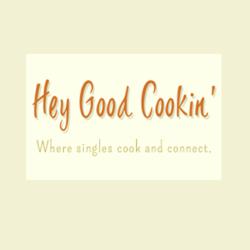 edford, Oregon (PRWEB) April 27, 2013
Hey Good Cookin' (http://www.heygoodcookin.com) is a free membership site for single adults that enjoy cooking or want to learn how to become better cooks. Its uniqueness is in the platform created for members to connect with others through their interest in cooking. Members can share and review recipes, upload cooking videos, and join in on forum discussions.
Many cooking sites cater to those cooking for families. Very few sites address the needs of the 33 million people who live alone. More than ever, people are motivated to eat out less and cook more at home to save money and gain better eating habits. By offering how-to cooking videos and group forums, Hey Good Cookin' provides a unique opportunity for single members to learn cooking tips as well as start new friendships.
Hey Good Cookin' was a dream born in the kitchen some 15 years ago when two friends, Lori Evans and Barb Velasquez organized a cookbook of recipes that also featured bachelors who hoped to find love (Good Cookin' Bachelors Cookbook copyright 1997). "We created the project to help people become 'un-single'. Now, we have expanded our vision to include getting more singles to drop the take out routine and adopt the attitude of 'cooking for me'."
Hey Good Cookin' focuses on the lifestyle of the single cook and provides an opportunity to meet other singles. Members are encouraged to share and engage in issues such as cooking for one or two, tips for reducing waste and clean up and recipe ideas for gatherings. The site will inspire single members with thought provoking posts, quotes and photography.
Joining is simple and free. Singles 18 years and older who are interested in cookin' or just lookin' can create a user name and share their recipes with the community, try and review other recipes, upload cooking videos and get to know other singles. Food bloggers are invited to share their expertise in the kitchen by becoming a guest blogger and all members are encouraged to explore some of the smart features of Hey Good Cookin' like searching and 'friending' members based on food interests or by city.
Please contact Lori Evans (lori[at]heygoodcookin[dot]com) or Barb Velasquez (barb[at]heygoodcookin[dot]com) for more information on Hey Good Cookin'.