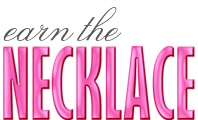 Being in a stable relationship could be the key to longer life.
New York, NY (PRWEB) April 25, 2013
EarnTheNecklace.com, a revealing and engaging web site containing articles written by women who exchange their stories and confessions about being in a relationship with a much older man, releases a statement responding to two studies, one suggesting that marriage might lengthen life and the other that men might live longer if they marry younger women.
A recent study published in the journal Annals of Behavioral Medicine found that individuals with permanent partners or spouses had a decreased risk of premature death during their midlife years. Those who never married were more than twice as likely to die early, versus those individuals who were in a long-term, stable relationship. The study also found that losing a partner without gaining a new partner also increased the risk of dying early. (Source: Siegler, I.C., et al., "Consistency and Timing of Marital Transitions and Survival During Midlife: the Role of Personality and Health Risk Behaviors," Ann Behav Med. January 9, 2013.)
"Being in a stable relationship could be the key to longer life," says Bianca-Marie Coventry, EarnTheNecklace.com's content manager. "The study illustrates that being single after 40 negatively impacts your chances of reaching 60, and that loneliness can have a negative effect on health. This study also reinforces what the editorial staff at EarnTheNecklace.com has long known—that it's important for people to have strong social support."
Aside from leading longer, healthier lives because of being in a long-term relationship, another study shows that men live even longer if they marry younger women. The latest study on marriage and life expectancy found that a man's chances of dying early are cut by 20% if his wife is between 15 and 17 years younger than him, while the risk of premature death is reduced by 11% if a man marries a woman seven to nine years younger than him. (Source: Max Planck Institute for Demographic Research press release, "Marriage and life expectancy," May 11, 2010.)
The study also found that men marrying older women are more likely to die early. In addition, the results suggest that women do not experience the same benefits of marrying a younger man; in fact, a woman who marries either a younger man or an older "sugar daddy" generally shortens her life span.
"Attitudes about older men dating younger women are rapidly changing and becoming much more socially acceptable," Coventry adds. "This study takes it a step further and shows that being in a relationship with a much younger woman could actually be a healthy choice for an older man."
"At EarnTheNecklace.com, we advocate being in a relationship for the right reasons, and not merely for the age factor," she concludes. "Still, it's interesting to observe that men who marry younger women improve their chances of longevity and that there appears to be no health benefit for a man in a relationship with a woman the same age as him. When it comes to marriage, gender differences and age have a significant impact on one's health."
To learn more about EarnTheNecklace.com, visit the website at http://www.EarnTheNecklace.com. If you are a woman dating or married to a man 20 or more years older than you, we want to hear from you! And if it's a story we publish, we'll pay you $500, with an opportunity to write more. For more information, e-mail us at Bianca(at)EarnTheNecklace(dot)com.
About the website: EarnTheNecklace.com is a website featuring stories written by women in relationships with much older men, who want to help other women in the same situation. The site helps women in this position understand and navigate the potential ups, downs, joys, trials, and even unforeseen consequences, all based on real-life stories from women who have been in the same situation. Plus, the website offers other celebrity gossip and juicy stories, all geared to those who are in a relationship with a much older man.