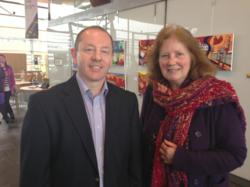 I particularly like the painting of 'Castle Coch', where this castle is in my constituency."
(PRWEB UK) 27 April 2013
Pontypridd artist Christopher Langley, 50, was delighted yesterday to open his solo art exhibition titled 'Abstract Wales' at the National Assembly of Wales.
There are 17 of Langley's best works on display where the feedback was very positive indeed. Contractor Kevin Parry, 52 of Blackwood said "very imaginative and original images". Managerial consultant Julia Davies, 55, of Cardiff said "all in all a great presentation of work".
Langley's full portfolio can be viewed at his online gallery at http://www.christopherlangley.net.
Cardiff North AM Julie Morgan, who sponsored Langley's event, said a few words at his launch:
"I am very proud," she says " to help local artists gain a platform to display their works. Chris' paintings are bold, striking and original. I particularly like the painting of 'Castle Coch', where this castle is in my constituency."
Already awarded a number of commissions, Langley says: "My goal of having such a high profile exhibition within the National Assembly of Wales will hopefully result in me being further commissioned by companies and private individuals. I enjoy the challenge of creating work to a commissioners' requirements"
After a 30 year career in the media, during which he was awarded eight national prizes for short films, the Uwic educated artist turned semi-professional in March 2012.
Since then, Langley had a solo exhibition throughout May 2012 at Pontypridd Museum, in addition to work displayed in many galleries in Cardiff and also a gallery in London. He has received commissions from private individuals and companies.
Langley has been featured widely in the local press, recently having a double page feature in the South Wales Echo in March 2013. The Priory Hotel, Caerleon has a gallery featuring Langley's work. Owner Miguel Santiago says: "I very much like the stye of Chris' work".
The famous international worldwide golf venue, the Celtic Manor has also expressed an interest in displaying work in two of its high profile restaurants during June 2013.
The Exhibition lasts until May 24th 2013, at the Oriel Gallery, the National Assembly of Wales Building , Cardiff Bay. Christopher Langley's artwork is sponsored by Matol UK, suppliers of internationally known herbal drink Matol Km.