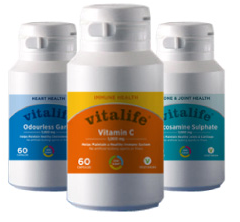 Vitalife are offering 20% OFF their entire range until the end of April 2013
Rotherham, South Yorkshire (PRWEB UK) 25 April 2013
To celebrate the launch of their brand new range of vitamins and minerals, Vitalife are offering 20% off their entire range until the end of April 2013.
The full range will come into stock on this date, and all orders will be dispatched to customers on the 30th April, but ordering prior to this date will attain a 20% pre-order discount.
Vitalife announced the launch of their vitamin and supplement range at the end of March - vowing to shake up the industry with their new approach, offering supplements with no artificial or highly processed fillers or bulking agents.
"We believe that if you are taking a supplement for health reasons, it shouldn't have anything in there to contradict that," explained Gavin Edley, Vitalife's Managing Director. "Common artificial or highly-processed ingredients include magnesium stearate which is often derived from animal fats, and silicon dioxide which is also used in glass and cement manufacturing - not exactly things you want in a health product."
Removing excipients has also shown, in numerous studies, to increase the absorption times of active ingredients in food supplements and vitamins.
Magnesium and Sodium, the two core components of magnesium stearate, compete with other nutrients for cellular receptors that line your digestive tract - and can often lead to a reduction in the speed and degree of absorption of the active ingredients within supplements.
Vitalife therefore exclude all ingredients like this from their supplements, opting for pure active ingredients, and if a filler is really necessary, they use natural rice flour - all encased in a natural vege capsule.
To receive 20% off their entire range of vitamins and minerals, order online before the 30th April at https://www.vitalifehealth.com/vitamins-and-supplements