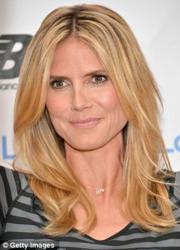 Lice Busters has a big advantage in its niche industry due to its all natural and organic approach to treating head lice
(PRWEB) April 26, 2013
Heidi Klum, a supermodel and mother of four children, is the host and head judge of 'Germany's Next Top Model' a TV show based on the American version hosted by fellow model and friend Tyra Banks.
The show's network, ProSeiben, revealed that there was at least one model that had head lice and another suspected of having.
One of the favorites to win the competition is 16-year-old Anna Maria, who was the confirmed contestant to have caught head lice; she said that she had "no idea where they came from", German news service Spiegel reported on April 19, 2013.
On the 'Germany's Next Top Model' TV episode in which the infestation was discovered and aired on April 18, 2013, Anna said: "I probably tried on a hat while shopping, and suddenly I had lice," said Anna to the camera. Heidi Klum whom did not have lice or nits, speculated that the itchy bugs were perhaps "a little souvenir from New York", where Anna recently was for Fashion Week, filming an episode.
According to the article, however, in a show of friendship and impeccable classiness, contestant Sabrina who grew up on a farm helped Anna Maria use an all natural lice product from Lice Busters to get rid of the lice and nits. Luckily, Sabrina grew up on a farm and "'knows how to deal with the problem,' ProSieben said.
"Most head lice products are toxic and contain chemical ingredients, not to include that they are less than 100% effective at removing the lice and nits from the hair. Due to the extreme importance of nipping the tiny critters in the bud it was decided that only the most natural and effective products should be used. After doing some research and shopping, they realized that the Lice Busters head lice treatment products were the best ones to use to help get them lice free." said Dalya Harel, founder of Lice Busters Inc, a leading Lice Treatment Brand.
"Lice Busters has a big advantage in its niche industry due to its all natural and organic approach to treating head lice. We are the only mass market Lice product manufacture and whole seller to have an all natural method to safely remove lice and nits. Most of our competitors products only kill the lice and nits after several treatments, our products however only require 1 treatment to help you finally get lice free", said Dalya who is sometimes referred to as the "Lice Lady".
About Lice Busters:
Lice Busters is an all-natural, lice treatment and lice removal service that offers a 100% guaranteed head lice treatment and lice check. The Lice Busters lice treatment method consists of manually removing head lice and nits from the hair with a metal lice comb that is made in Germany. Lice Busters offers a discreet lice removal service, in a private salon setting or a chosen location. Providing safe solutions for frantic families, Lice Busters has successfully treated thousands of families nationwide. Our services are recommended by hundreds of pediatricians and are reimbursed by most major health insurance carriers, flexible spending accounts and health savings accounts.