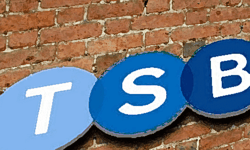 London (PRWEB UK) 25 April 2013
The face of the British high street is changing again after yesterday's collapse of the widely anticipated deal to sell part of Lloyds TSB's branch network to the Cooperative Bank.
Lloyds (LBG) have announced that over 600 of their group branch network will soon become branches of the newly reestablished "TSB" (Trustee Savings Bank), marking a dramatic return to the UK high street for the once familiar UK brand (whose history dates to the year Napoleon married his second wife).
Although once a familiar face to generations of Britons, the TSB brand took a backseat when Lloyds and TSB merged in 1995, becoming 'Lloyds TSB' (about 10 years after TSB was privatised by the second Thatcher government). On its return to the high street, TSB is expected to become a familiar face to a whole new generation of Britons as 630 stores will give TSB the 8th largest branch network.
Lloyds, and the UK government's, plans for TSB go further still in that TSB will be relisted, in its own right, on the London stock exchange. This separation of banks, and diversity within the banking sector in general, is something the UK coalition government are keen to promote.
Whether a relisted TSB will become an attractive prospect for one to the new players expected to emerge in the UK banking market when rules making switching to a better bank account come into force this September is unknown, but increased choice in the provision of current accounts, savings, loans and credit cards is likely to be welcomed by UK consumer groups.
A compareandsave.com spokesperson commented:
"TSB has a long and proud history. It's also mostly untainted by recent banking troubles so we expect it to be welcomed back onto the high street. That said the timing of the return could be better. With other trusted brands like Virgin and Tesco also likely to fight for business in the near future the new TSB will have its work cut to attract and retain customers."
____________________
compareandsave.com is one of the UK's leading personal finance comparison websites. Based in Colchester, Essex, compareandsave.com has been helping UK consumers get a better deal on credit cards, saving, loans and more for over five years.