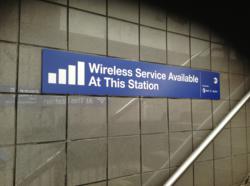 The first phase of the rollout brings cellular and Wi-Fi service to 36 New York City Subway system stations
Sunnyvale, CA (PRWEB) April 25, 2013
SOLiD, a publicly-traded global communications solutions innovator, announced today that the Company is participating in an event to celebrate the successful launch of cellular and Wi-Fi coverage in the first 36 Stations that comprise Phase 1 of a multi-year plan to deliver wireless communications in 277 of New York City's underground subway stations. SOLiD's Distributed Antenna System (DAS) equipment was selected by Transit Wireless in 2012 for the project.
This event, being organized by Transit Wireless, the "neutral host" that owns and operates the subway station wireless communications network, will take place Thursday, April 25 at 11:00am and will include a press conference. Afterwards, a private reception will include key industry executives and representatives that have participated and partnered throughout the Phase 1 process.
"We are thrilled to mark the completion of Phase 1 which brings cellular and Wi-Fi service to 36 New York City Subway system stations," said Seth Buechley, President of SOLiD, whose company designs and manufactures the DAS equipment deployed by Transit Wireless to enable cellular capacity and coverage. "We look forward to our continued collaboration with Transit Wireless to provide New Yorkers the same level of wireless service underground as they enjoy above-ground."
"Transit Wireless is bringing wireless and Wi-Fi to New York City's iconic subway," said Transit Wireless CEO, William A. Bayne, Jr. "It is therefore a befitting tribute to our mission to enable state-of-the-art wireless service to all of the underground subway stations by kicking it off underneath the most famous crossroads in the world: Times Square."
The press conference will feature officials from the Metropolitan Transportation Authority (MTA) and executives from Transit Wireless and key project solutions providers.
For a more information, please contact SOLiD.
About SOLiD
SOLiD (http://www.solid.com) empowers communications through innovative Distributed Antenna System (DAS), Optical Network Transport and Passive Optical LAN (POL) solutions that ensure capacity and coverage for cellular and public-safety throughout buildings, campuses and venues, enable Fronthaul / Backhaul for Small Cell and WiFi Offload deployments, and deliver carrier-grade Fiber-to-the-Room (FTTR) network capacity and reliability to facilitate next-generation voice, data and video applications such as 4KTV. Learn more at the SOLiD website, read our blog and follow us on LinkedIn. For further information please email info(at)solid.com or call 888-409-9997.
About Transit Wireless
Transit Wireless (http://www.transitwireless.com) was formed specifically to respond to the Metropolitan Transit Authority's requirement to provide a shared wireless infrastructure to enable commercial wireless services for the New York City Transit Authority (NYCTA) riders within 277 underground subway stations, and related opportunities. Transit Wireless owns and operates the subway station wireless communications network and acts as a neutral host for extending a variety of wireless carrier services to New York City subway riders. Major wireless carriers have already signed on to be partners on the Transit Wireless Network. In addition there is interest for several applications from public/private wireless providers. Broadcast Australia, a leader in underground wireless networks, acquired a controlling interest in Transit Wireless in 2010.